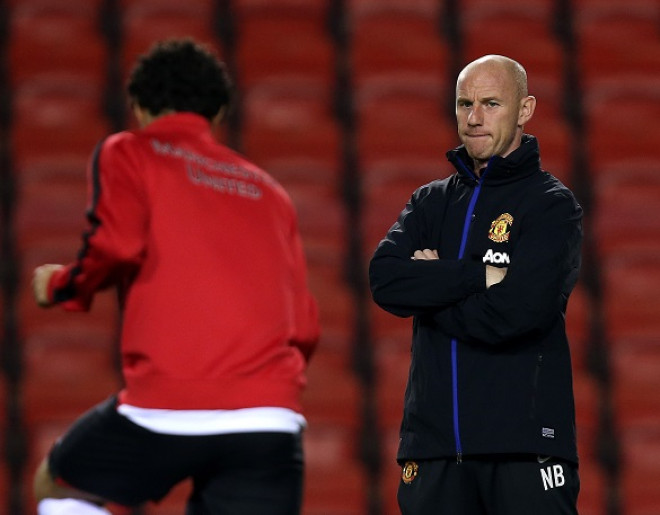 Nicky Butt has spoken of the 'surreal' experience assisting Manchester United interim manager Ryan Giggs in the wake of David Moyes being sacked.
The former United midfielder had been coaching the club's youth team but has been promoted to first team assistant alongside fellow Class of 92 icon Paul Scholes.
Phil Neville, another product of the legendary United youth team, has retained his position at the club despite being part of the regime Moyes brought with him from Everton.
In his first interview since taking the reins alongside Giggs, Butt told MUTV of his pride at being in charge for United's four remaining Premier League games.
""It will be massive for us, a proud moment for us all," the 39-year-old said. "To be there together is a bit of a surreal thing. We walked in here together when we were 12 and to be here now – I'm not 40 yet but Giggsy is, and myself and Scholes are nearly there too. So for us and Phil to be there together is a very proud moment.
"We're here to try to help the club and get the results that we want from now until the end of the season. What happens after that, who knows?"
In a veiled riposte to Moyes's exit statement in which he thanked everyone but the players for his brief tenure at the club, Butt said United were well equipped to have a strong finish to the season.
"We've got some amazing players at this club, good lads who care about the club, who are really positive about United and want the best for the club," he added.
"Saturday is a massive occasion, not only for Ryan, but for the staff, the fans and the players as well because they know that we've underachieved as a club this year.
"The players in that changing room know how good they are. They look round, look left and look right at the players next to them and know that they are very proud, hard-working lads. I'm sure we'll see that on Saturday."