The creator of the controversial "quenelle" gesture has defended French footballer Nicolas Anelka for using it and described him as his "brother in humanity".
French comedian Dieudonne M'Bala M'Bala spoke publicly for the first time to Sky News since Anelka performed the quenelle, widely regarded as anti-Semitic, when he was celebrating a goal against West Ham in December.
The West Bromwich Albion striker faces a potential five-match ban after the FA charged him with making the gesture. Many critics say the quenelle is an inverted Nazi salute.
Anelka denied that he was anti-Jewish and insisted that the quenelle was instead a gesture against the establishment. He made the gesture in support of his friend M'Bala M'Bala, he continued.
Dieudonne voiced his support for the striker as the controversy rumbled on.
He said: "Nicolas Anelka has all my support, that's evident.
"I consider him a brother in humanity. He's someone who is very courageous and for whom I have very much respect and admiration.
"Anelka is a descendant of slaves and if he wants to remark on this history then he has the right to - and we are all very proud of him doing so."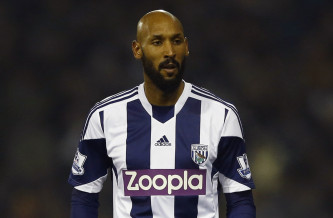 He was speaking after he was questioned by police over allegations that bailiffs who tried to serve a writ on him for non-payment of fines or taxes were shot at with rubber bullets.
Anelka tweeted a video of the head of the Representative Council of French Jewish Institutions, Roger Cukierman, telling French newspaper Le Figaro that the quenelle was only anti-Semitic when it was performed at a Jewish site. The charges against Anelka were "exaggerated", he said.
However, Cukierman later posted a statement on the council's website in which he said that the quenelle was a reverse Nazi salute and that he is was "disappointed" in Anelka's behaviour.
He said: "My statements in Le Figaro are no denial or renunciation on this subject, despite the interpretations that were made.
"However, I wished, perhaps too quickly, to demonstrate that it was important to show discernment, restraint, to avoid being drawn into a spiral that was difficult to control.
"It is clear that the gesture of the quenelle has dangerously spread among our citizens and especially youth.
"Should we be hard on them? Definitely, as it glorifies crime against humanity, but we must also teach the youth who are manipulated by Dieudonne and his followers. This is why I was disappointed with the attitude of Anelka, whose behaviour is the opposite of what a top athlete must show the youth of our country."