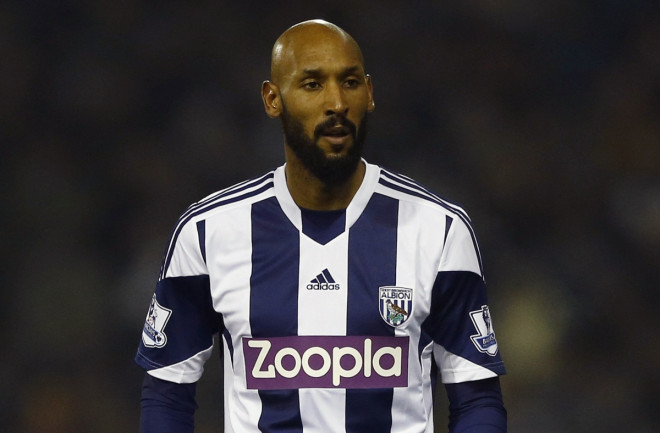 West Bromwich Albion have suspended striker Nicolas Anelka after being given a five match ban by The Football Association for his 'quenelle' gesture in the draw against West Ham United on 28 December.
The former France international was found guilty after an FA hearing and been handed a £80,000 fine and ordered to complete a compulsory education course.
Anelka will have seven days to appeal the FA's decision and an Independent Regulatory Commission will provide written reasons for their decision in due course.
A Baggies statement read:" West Bromwich Albion treats very seriously any such allegation which includes any reference to ethnic origin and/or race and/or religion and/or belief.
"Upon both charges being proven, the Club has suspended Nicolas Anelka pending the conclusion of the FA's disciplinary process and the Club's own internal investigation.
The Club acknowledges that the FA panel 'did not find that Nicolas Anelka is an anti-Semite or that he intended to express or promote anti-Semitism by his use of the quenelle'.
"However, the Club cannot ignore the offence that his actions have caused, particularly to the Jewish community, nor the potential damage to the Club's reputation."
A statement from the FA read: "Mr Anelka has the right to appeal the decision. Mr Anelka must notify the FA of his intention to appeal within seven days of receipt of the written reasons.
"The penalty is suspended until after the outcome of any appeal, or the time for appealing expires, or Mr Anelka notifies The FA of his decision not to appeal."
Anelka was charged by the FA on 21 January for making the gesture which was "abusive and/or indecent and/or insulting and/or improper" during the 3-3 draw at Upton Park at the end of last year.
The FA intervened following the incident to assess the symbolism of the gesture after concerns it had been identified as anti-Semitic.
The 34-year-old strenuously denied the gesture was of a racial nature, insisting it was to be perceived as an anti-establishment move made in solidarity with his friend and controversial French comedian Dieudonné M'bala.
"In France it means simply a gesture against the system, and then after time it became a gesture of emancipation," Dieudonné previously told Sky News.
"Many Africans like me, descendants of slaves, it's for self-liberation."