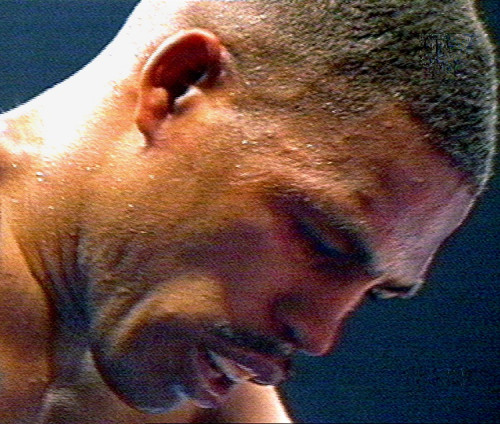 Nigel Benn has turned 50 and it is worth reflecting on his turbulent yet compelling life where he's played many roles.
He is a former soldier who served in Northern Ireland.
He is an ex-womaniser who tasted the playboy lifestyle of drugs, fame and material wealth.
He is former world champion in two different weight classes who became a born-again Christian on the back of tragedies.
But one thing Benn never claimed to be or have been is a boxer. He was instead a fighter and puncher.
If one measured a fighter of Benn's raw dynamism and intensity by the aura of menace he exuded, he would be at the top of the all-time greats list for intimidating presence
There was never anything relaxed, smooth or intellectual about Benn that one saw in two of his most notable opponents who were counter-punchers: Chris Eubank and Michael Watson.
Benn was an animalistic and brutal fighter - the Mike Tyson of Britain's middleweights. Like a prime Tyson from 1986-89, Benn just knocked out his opponents one after the other.
From the time he turned professional in 1987 until 1989, Benn stopped the vast majority of his adversaries within two rounds. This pattern remained the same until he faced Watson for Britain's commonwealth middleweight belt in 1989.
Many thought that Benn would simply flatten Watson with his tremendous power, insolent attitude and 22-win knockout record.
But Watson used a tight defence and fine boxing brain to smother Benn's aggression against him until Benn collapsed from exhaustion in the sixth round.
Going to America
Benn rebuilt his career by doing it the hardest way a fighter can: he went to campaign in the United States.
He made Atlantic City and Las Vegas the two cities he did his work in and took on durable contenders including Doug DeWitt and Iran Barkley.
He won the World Boxing Organisation middleweight from Dewitt and then defeated Barkley, another considerable puncher in his first defence.
It fascinating to note that when Tyson was defeated by James 'Buster' Douglas in Tokyo in 1990, which many fans see as the biggest upset in boxing history, Benn rediscovered winning ways and grew his profile in America.
Benn vs Eubank Rivalry
The debonair and cunning Eubank brought Benn back to UK shores in November 1990.
In a fight that is one of the greatest a British boxing ring has ever seen, Benn and Eubank waged an intense battle in nine rounds that saw Eubank's tongue split and Benn stopped late on.
Their subsequent rivalry became one of the most wrote-about sports stories of the 90s.
Just as it seemed that Benn had won a world title, he lost it again to a man he claimed he hated.
Benn won a second world title, this time the World Boxing Council version, in 1993 at the super middleweight limit from Mauro Galvano.
He drew with Eubank in their rematch at Old Trafford in Manchester during the same year in a contest known as Judgment Day.
The fight was not as exhilarating as the first and both contenders seemed to know each other too well to make the rematch as pulsating.
In 1994 Benn took on the tough but underrated Englishman Henry Wharton and then faced a life-defining opponent in February 1995 - the American Gerald McClellan.
Benn vs Gerald McClellan Shootout
McClellan exuded the same menace, arrogance and devastating power that Benn once had. He was 27, a two-time world champion and could box as well as knock people out.
Benn was dismissed as being past his best and having little chance against the intimidating American and was knocked out of the ring in the first round. He managed to come back and stop McClellan in the 10th.
McClellan's career ended that night when he sustained permanent injuries. It remains one of the most extraordinary yet tragic fights in British boxing history and he was never the same again.
Benn vs Steve Collins Saga
He lost his last three fights and his last performances revealed an old and dispirited fighter whose best days were behind him.
Benn's two encounters with the Irish brawler Steve Collins were underperformances.
In both fights he did not make it to the seventh round and finally retired from boxing with 42 wins, five losses and one draw.