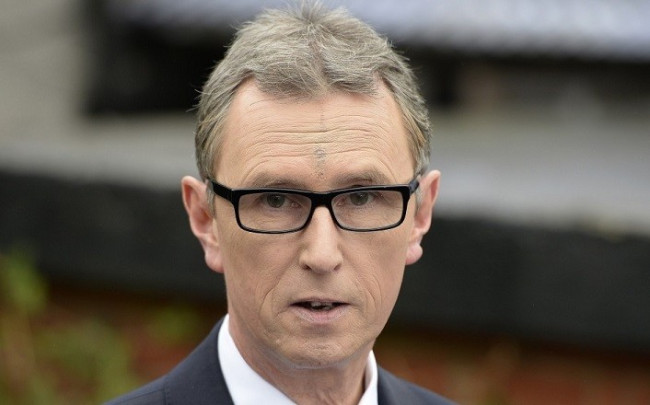 The former deputy speaker of the House of Commons used his "powerful" influence to sexually abuse young men in Parliament, a court has heard.
Nigel Evans "could make or break" the careers of young people aspiring to a life in politics, a jury was told.
The Independent Ribble Valley MP denies all nine charges against him. They include one count of rape, two of indecent assault and six of sexual assault. The alleged crimes were committed between 2002 and April 2013.
Evans would attack his victims "often in drink", the prosecution claimed.
Prosecutor Mark Heywood QC said: "Within the Palace of Westminster, in his constituency and in his own political party, Mr Evans was, during the decade with which you are concerned, a very well-known and powerful individual.
"Part of his influence included the ability to make, or to break, the careers of those young people who themselves would be politicians or work for those who govern.
"The prosecution case against Mr Evans is that he, often when in drink, pressed his sexual attentions on those younger men, using or trading on his position of influence."
One alleged assault took place at the Conservative party conference in Blackpool in 2003 in a bar called Number 10 in the Imperial Hotel.
Evans, who was described as "plastered," tried to put his hand down a young man's trousers, "without warning or any kind of invitation", the jury heard.
The 56-year-old, who was then shadow secretary of state for Wales, was moved away by a Conservative party board member but returned 10 minutes later and "did exactly the same thing again", the court heard.
Another 21-year-old man alleged that Evans assaulted him in the Strangers Bar at the House of Commons in 2009 and attempted to kiss him behind a curtain.
Heywood said: "The prosecution alleges that he, on separate occasions over many years, has sexually assaulted young men, both in public situations and in private.
"By the last of these, in early 2013, he raped one of the young men.
"Mr Evans denies the allegations made.
"He says that in respect of, for example, the rape, events were entirely consensual or the result of misreading signals or simply that either they did not happen or he has no clear recollection because of the passage of time," Heywood added.
House of Commons Speaker John Bercow, transport secretary Patrick McLoughlin and the former Lib Dem MP Lembit Opik are among the prosecution witnesses named in the trial of Evans.
MPs Sarah Wollaston, Michael Fabricant, Alexander John Randall, Conor Burns and Tom Blenkinsopp, and the former MP Adam Pryce are also included.
Evans resigned as deputy speaker in September after he was charged.
The trial continues.