Nigel Farage has accepted Ed Miliband's "challenge for a debate" after the Labour leader attacked Ukip during his "fight back" speech.
"I think it's time we levelled with people about Ukip. It's time we had a debate about where they really stand," Miliband said in a speech at the University of London.
Miliband said Labour would be talking more about immigration as a party, but "always on the basis of Labour values, not UKIP values".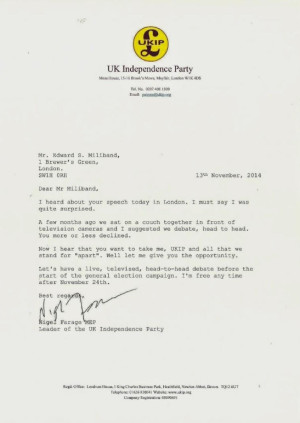 He also accused Farage's party of wanting to privatise the NHS, turn back the clock on gay and lesbian rights, and pull the UK back to "a more unequal, more unjust past."
"Farage, you may want to live in that world but come the general election, I don't believe the British people will follow," Miliband said.
But Farage hit back at the Labour leader by posting a type-writer styled letter on Twitter.
"Let's have a live, televised head to head debate before the start of the general election campaign," the Ukip leader wrote.
Farage also said he was "free any time" after 24 November – four days after the Rochester and Strood by-election, where Conservative defector and Ukip candidate Mark Reckless is tipped to win.
The call for a TV debate from Farage comes after he went head-to-head with Nick Clegg in a series of TV debates earlier in the year, over the UK's membership of the European Union (EU).
A poll from YouGov at the time revealed that 68% of respondents thought that the Ukip leader had performed best in the second debate, against 27% who said Clegg had.
The latest YouGov poll for The Sun gave Labour a three point lead of the Conservatives ahead of the 2015 General Election next may.
The poll also put Ukip on 15% and the Liberal Democrats on 7%.