Nigel Farage and other key Ukip figures celebrated his tenure as leader by stripping off and going for a midnight swim.
However a thunderstorm meant that Farage, millionaire Ukip donor Arron Banks and press advisor Andy Wigmore were forced to stay in the water longer than they had bargained for.
The impromptu naked dip came about after "a few drinks" at the Ukip party conference on Thursday (15 September), according to Banks.
"We had a few drinks, it was late at night and we went skinny dipping off the Bournemouth pier," he told BBC Radio 4's Any Questions?
The story was confirmed by Wigmore, who claimed the trio were planning to take a picture of Farage "doing a Reggie Perrin".
"We thought he should do a Reggie Perrin and disappear off with only a pile of clothes on the beach and take a picture because we were obviously slightly merry," he told The Mirror.
"We ended up piling in, clothes piled onto the beach, into the water which was bloody freezing. Then the lightning started and the rain started.
"We couldn't get out because it's much safer in the water. So we swam up and down the beach for half an hour in a thunderstorm. It was great fun.
"Then we couldn't find our clothes. We managed to find them, scrambled up to the hotel and proceeded for the next hour to watch the thunderstorm and drink whiskey."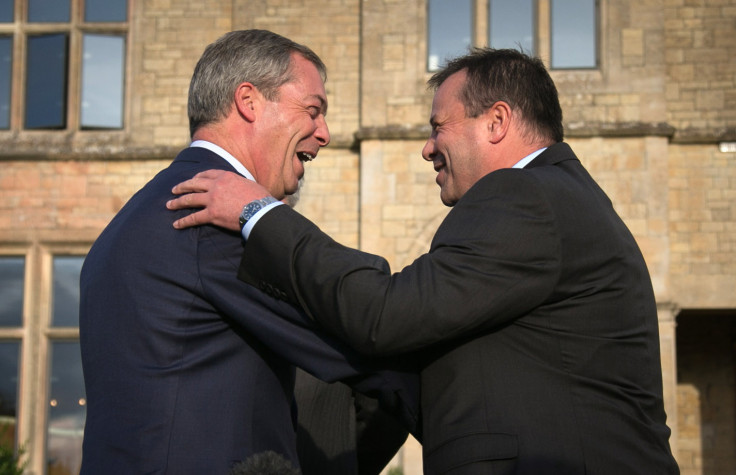 He said the trio were only "covering the essentials but you had to cover the essentials because it was so cold".
Farage has spoken of his "youthful excess" and skinny dipping in the English Channel while growing up in Kent.
"I did a bit of skinny dipping and a few things like that in the middle of the night," he said in an interview with ITV last year.
"Youthful excess. It got very cold. You do need some parameters and some boundaries; I probably had fewer than most."