As the Ukip leader made his final speech of the campaign just a day before the historic 23 June vote – which he has played a pivotal role in orchestrating – he admitted he has "no idea" what his or David Cameron's and Boris Johnson's political future will hold after the EU referendum (EU referendum: follow our Brexit live blog).
"What I care about is winning [the referendum] and that's what I've been in politics for," the Eurosceptic firebrand told journalists. "That matters to me an awful lot more than whether I stay on or don't stay on. I have given a lot along with my colleagues to try and make this happen. And winning is really, to me, what matters."
It was partly the rise of Ukip, led by the charismatic and controversial Farage, as a potent electoral force and a growing threat to the Conservative voter base that convinced Prime Minister David Cameron to call the referendum poll in 2013.
Farage has played a prominent role in the campaign, despite Vote Leave, which is backed by Boris Johnson and Michael Gove, winning the official Brexit group designation from the Electoral Commission.
The Ukip leader's remarks have proved controversial and Farage faced accusations of "racism" after unveiling a 'Breaking Point' poster of a large group of migrants and refugees at the Slovenian border on 16 June – hours before the murder of Labour MP Jo Cox.
Ukip MEP Diane James claimed he had apologised for the advertisement when she appeared on the BBC's Great Debate, but Farage qualified his position on the matter when pressed by the media, explaining that he regretted the timing of the poster but not the tone. "I can't apologise for the truth," he declared.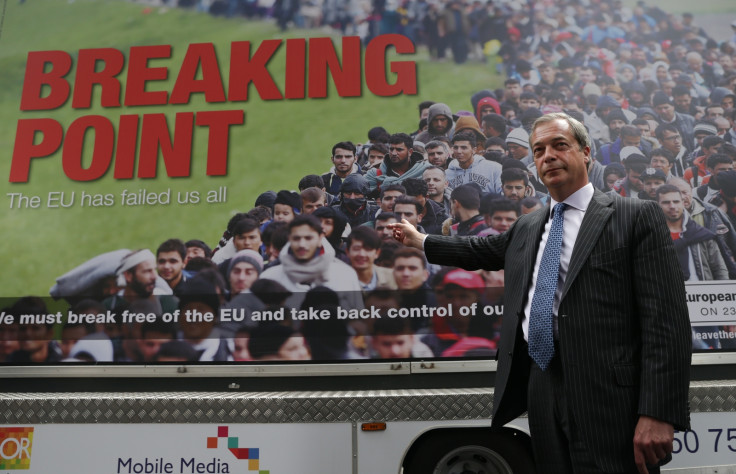 Farage also claimed Ukip voters would "crawl over glass" to have their say in the referendum, but warned it would be undecided voters who would swing the result. In a plea to them, the Eurosceptic claimed the EU was heading in a federalist direction.
"We don't even have a British passport anymore, it's got 'European Union' on it, which is of course available to up to 580 million people," he argued. "Let's stop pretending what this European project is. They have an anthem. They're building an army. They've already go their own police force. And of course they've got a flag. At the end of the day when people vote tomorrow, they must make a decision – which flag is theirs?"
The rallying cry comes as the opinion polls put the referendum result neck-and-neck. A telephone survey from Survation, of more than 1,000 people on 20 June, put Remain on 45% (=) and Leave on 44% (+2), while an online poll from YouGov, of more than 1,600 people between 18 and 19 June, put Leave on 44% (+1) and Remain on 42% (-2).