Nigel Farage Joins Forces with ex-Clown Beppe Grillo as Ukip and Five Star Movement Unite in EU
Nigel Farage has signed Ukip to a pact with former comedian Beppe Grillo's Five Star Movement of Italy in the European parliament.
Two two anti-establishment parties formed a new grouping in Brussels after both rocked the polls in home elections.
The new Europe of Freedom and Democracy Group (EFD) includes 48 MEPs from countries including Sweden, France, Lithuania, the Czech Republic and Latvia.
Farage said the EFD will be "the people's voice" and predicted it will "operate very well".
The new group follows a meeting between the two leaders at an Indian restaurant in Brussels, after which Grillo said Farage possessed a "sense of humour and sense of irony".
Farage said: "I am very proud to have formed this group with other MEPs and we undertake to be the peoples' voice.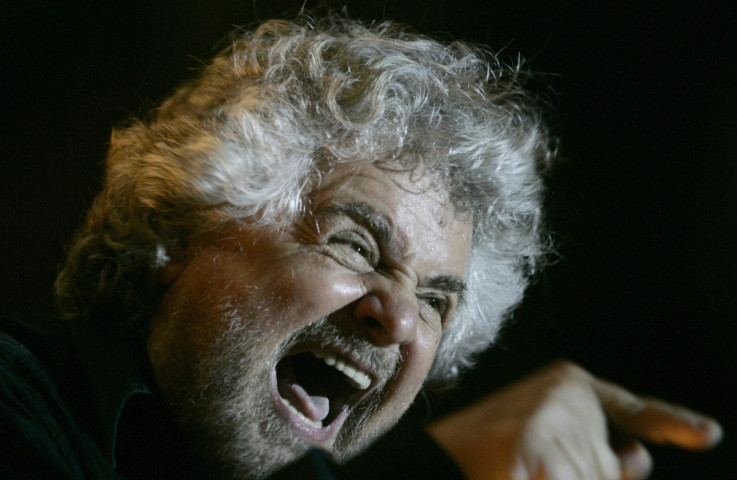 Beppe Grillo leads the FIve Star Movement, which has raged against austerity in Italy
Getty
"We will be on the front line working for the restoration of freedom, national democracy and prosperity across Europe. Expect us to fight the good fight to take back control of our countries' destinies.
"We have struggled against much political opposition to form this group and I am sure it will operate very well."
Ukip stormed to victory in last month's EU election in Britain by topping the ballot and winning 24 MEP seats.
The Five Star Movement won 17 representatives at the European parliament in Brussels in Italian elections. Last year, it won 25% of the vote in a general election.
Hailing the EFD, Grillo said: "Now we will start working in committees and we will have the peoples' voice heard in the European institutions, without intermediaries."