Italian politician Beppe Grillo has launched a campaign against the euro ahead of next month's European parliamentary elections.
According to the Five Star Movement's leader: "Countries that don't have the euro, like the UK, are better off".
As opinion polls predict Grillo's movement will take second place to the centre-left democratic party of prime minister Matteo Renzi, IBTimes UK looks at the charismatic comedian-turned politician who is now calling for a single-currency referendum in Italy.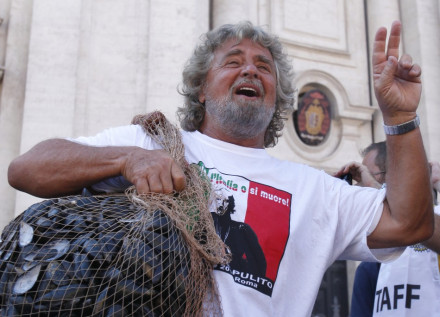 Who is Beppe Grillo?
Acclaimed by thousands and accused by many others of being a populist and a demagogue, comedian-turned-politician Giuseppe Piero "Beppe" Grillo emerged on the political scene in 2009.
Grillo was born born on 21 July 1948 in Genoa. Trained as an accountant, he decided to take up comedy, becoming famous for his satirical jokes against politicians during the 1980s.
In 1980, he was convicted of the manslaughter of three people in a car accident, but this did not stop his star from rising.
Grillo is believed to have left TV in the 1990s after his satirical jibes earned him too many powerful enemies.
In 2005 Grillo started his own blog which has attracted thousands of loyal readers, dubbed grillini ("little crickets" - Grillo means cricket in Italian). Grillo's blog ranks among the 10 most visited in the world and, in 2008, The Guardian included it among the world's most influential.
He was chosen by Time magazine as a "European Hero" in 2005.
The Guardian defined him as "a comedian to be taken seriously", while Der Spiegel spoke of him as "the most dangerous man in Europe.
ABC News, meanwhile, dubbed him "the clown prince of Italian politics".
Five Star Movement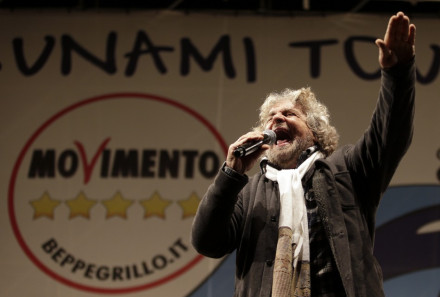 Grillo founded the Five Star Movement in 2009.
According to the BBC: "The party's logo promotes Grillo's blog, making clear that it is very much the vehicle of the ageing comedian, who cannot stand for parliament himself because of his manslaughter conviction."
Grillo described his party as a "lifestyle choice". "You have to participate actively in politics, change your habits: eat, travel, shop in a certain way," he was quoted as saying by AFP.
The party made considerable gains at the 2012 local elections, receiving the third-highest number of votes cast and winning the mayoral election for the city of Parma.
Some believe that Grillo's Five Star Movement could take up to 30% of the seats in the European parliament.
Grillo has defined himself as the "only real extraordinary political leader," the Sunday Times reported. In a recent public statement, the politician defined Italy as a "shitty state" and criticised Silvio Berlusconi and Renzi, calling them "bastards".