Nigel Farage will go to Washington DC in December to meet Donald Trump's aides and is reportedly considering a permanent move to the US.
The interim leader of the UK Independence Party will travel with party donor Arron Banks and his adviser Andy Wigmore to meet the transition team preparing for Trump's move to the White House with whom Farage is said to be in "constant contact", the Telegraph reported.
It will be seen as a move to undermine the UK Prime Minister Theresa May who is yet to meet the president-elect.
Farage was the first UK politician to visit Trump after his election victory and the President-elect said on Twitter that "many people" would like to see Mr Farage as UK ambassador to the US and said he would do a "great job".
Jacob Rees-Mogg, the pro-Brexit Tory MP, said he was not sure Farage should take the post, despite his good relationship with Trump, saying: "Mr Farage is certainly extraordinary in his own way but I think that being plenipotentiary as well may be a bit too much," The Telegraph reported.
Meanwhile the Times reported that Farage, who will stand down as UKIP leader on Monday, has told friends he is getting ready to emigrate to the US with his wife Kirsten.
The paper said friends report how he is concerned about life in Britain. He has not appeared in public with his family for more than 18 months after anti-Ukip protesters chased his wife and daughters out of a pub in Kent and that he would feel "freer" from public attention living abroad.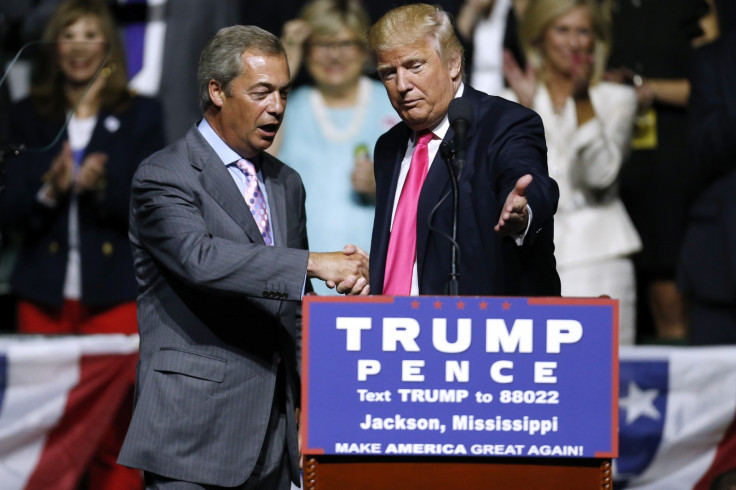 Farage attended a Brexit celebration on Wednesday evening (23 November) at the Ritz hotel in central London.
Among the 120 guests were Sir David and Sir Frederick Barclay, 82, the twins who own The Daily Telegraph, Richard Desmond, 64, owner of the Daily Express, and pro-Brexit MPs.
At the event, Farage described how in the US "the revolution is total" but in the UK, "the people have spoken, but the same players have just been shuffled around the chess board and we are still being run by the career professional political class".
In a light-hearted gesture, the Ukip leader was presented with a platter of Ferrero Rocher, the chocolates associated with diplomatic parties.