Nigel Farage: Ukip leader says he's most demonised politician since fascist Oswald Mosley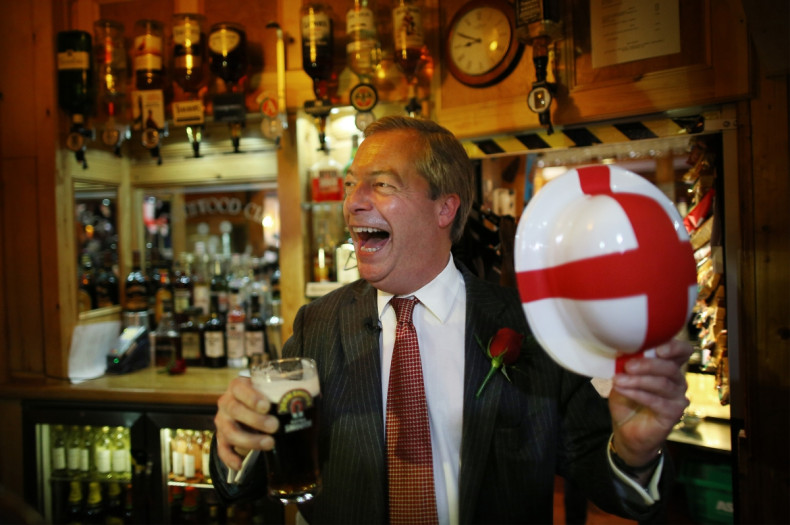 Nigel Farage has attacked the media and claimed their hostility has made him the most "demonised" politician since the infamous Nazi sympathiser and fascist Oswald Mosley. But the Ukip leader said he shrugged off the negative stories by having the "odd pint".
"Unfairly, I have been the most demonised person by sections of the media in Britain since Oswald Mosley," Farage told LBC Radio. "Some of the things that have been said and written about me over the last two and a half years have been appalling and untrue."
The comments come as Farage continues his Say No to EU tour across the UK ahead of the referendum. His party backs the Leave.EU campaign, which was founded by Ukip donor Arron Banks. But in an exclusive interview with IBTimes UK, Banks explained that Farage would be just one of the group's many spokespeople as the organisation contends with Vote Leave to win the official Brexit campaign nomination – and the public money that comes with it – from the Electoral Commission.
Farage echoed Banks's comments in his radio interview by explaining that it would be important to win over trade unionists and Labour voters to secure a breakaway from Brussels. The Ukip leader also sided with Jeremy Corbyn by attacking David Cameron over the UK government's relationship with Saudi Arabia.
The Eurosceptic firebrand described the Middle Eastern country's human rights record as "pretty shocking" and claimed people would not criticise the oil-rich state because of "money, money, money".
Farage's remarks come after Cameron announced that his administration would scrap a £5.9m ($9.1m) prison services contract with Saudi authorities and urged the Wahhabi Muslim country to stop the flogging of Karl Andree, a 74-year-old British oil executive who was caught with wine in his car.