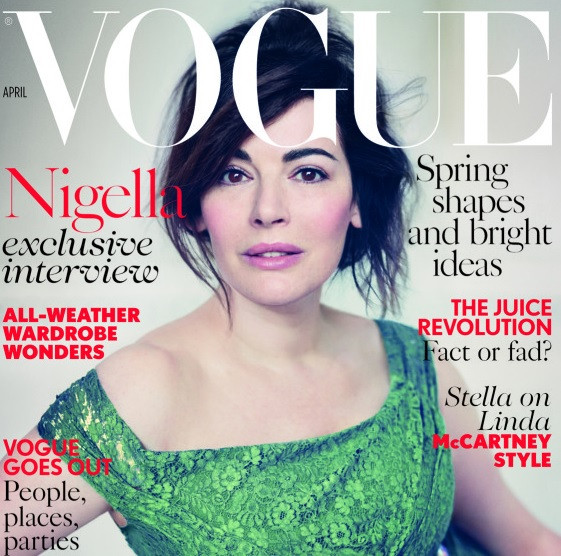 Following a turbulent few months things appears to be on the up for TV chef Nigella Lawson.
The Taste judge has turned her hand to modelling to cover Vogue magazine.
In the April issue of the fashion bible, Charles Saatchi's former wife shows off her fresh look after getting her life back on track.
One image features the 54-year-old star in a black sleeveless gown seated on a barefoot on a wooden chair. Her cleavage is on display and her tresses are styled in a messy up do.
For the cover picture she sports a lace green dress and pouts seductively for the camera.
"I was terrified of being photographed without make-up," she explains in the accompanying interview. "I hate having my looks talked up. It always makes me feel I'm going to be a disappointment in the flesh."
Lawson's cover has been years in the making. She has been a food writer for the publication for almost 20 years.
Her image overhaul came as she looks to take her career in a new direction.
"I do like writing about food but there's so much that interests me," she said.
"I've been working - in a cottage industry way - on an app, which, if it works, could be deeply thrilling."
In December, Lawson was accused of being a habitual drug user when she testified against her assistants Francesca and Elisabetta Grillo in a fraud trial.
While they were cleared of spending more than £300,000 of Lawson and Saatchi's money, she found her private life in the spotlight. She admitted during the case to taking cocaine "a handful of times".