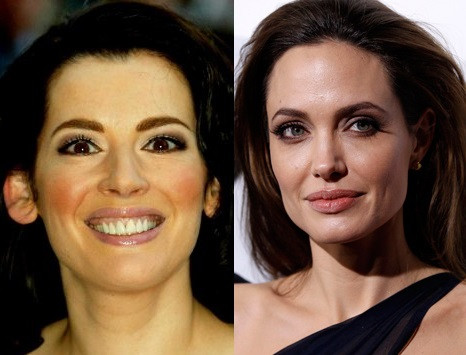 Hollywood actress Angelina Jolie is reportedly set to play Nigella Lawson in a movie about the TV cook's turbulent life.
According to The Sun, a film charting the domestic goddesses' controversial divorce from her billionaire husband Charles Saatchi and the fraud trial against their two former assistants, is in the works.
Producers are reportedly keen to capitalise on the 54-year-old's recent troubles, which have gripped the nation since Nigella was allegedly strangled outside a restaurant by Saatchi and later described as a habitual drug user in a court case.
Jolie, best known for playing Lara Croft in the Tomb Raider franchise, is said to be first choice to star as the mother-of-two in the forthcoming movie.
"Angie had planned to take a lot of time off next year but this role is very tempting," an insider on the project told The Sun.
"She has been gripped like everyone else by all the drama surrounding Nigella these past few months and thinks she is a remarkable woman," the source added.
Lawson revealed she was mortified that "distorted" details of her private life were put on display during the fraud trial of Elisabetta and Francesca Grillo.
The sisters were cleared of spending more than £300,000 on extravagant purchases - including holidays and designer handbags - by using Saatchi's company credit card.
However, the high-profile case saw Lawson admit having taken cocaine a handful of times.
No release date has been confirmed for the biopic.
Meanwhile, Lawson is promoting her TV show The Taste with fellow judges Anthony Bourdain, Ludo Lefebvre and Marcus Samuelsson.