At least seven people have been killed in a bomb blast in Maiduguri, capital of restive Borno state, in north-eastern Nigeria. Three suicide bombers detonated their devices in Sajeri, an area in the outskirts of the capital.
"Seven dead bodies have been evacuated from the scene of the blasts," a Red Cross official was quoted by Reuters as saying. No group has yet claimed responsibility for the attack but suspicions fell on Boko Haram Islamist outfit, which carries out its deadly insurgence in the country's north-east. The group originated in Borno state, and Maiduguri is the epicentre of the group's armed fight to establish a caliphate throughout the occupied territories.
About Nigeria
Capital: Abuja
Population: 174.5 million (2013 census)
Largest cities: Lagos, Kano, Abuja
Major ethnic groups: 21% Yoruba, 21% Hausa, 18% Igbo
Languages: English, Hausa, Igbo, Yoruba
Religion: 50% Muslim, 40% Christian, 10% other
Currency: Naira (N) 1N = £0.0033; US$0.0050
Weekly attacks
Maiduguri has suffered attacks almost weekly. On 20 September, at least 145 people died following a series of attacks in Maiduguri and the nearby town of Monguno.
On 1 October at least 14 people were killed when five girls detonated the explosive devices they were carrying in Maiduguri, as the country marked the 55th anniversary of its Independence Day.
Boko Haram has killed more than 17,000 people since its insurgence became violent in 2009 and the group is renowned for kidnapping women and children and forcing them to carry out suicide bombing attacks.
Although Boko Haram carries out attacks primarily in north eastern Nigeria, the group claimed responsibility for a series of bomb blasts that killed 18 people and injured 41 in the federal capital of Abuja on 2 October.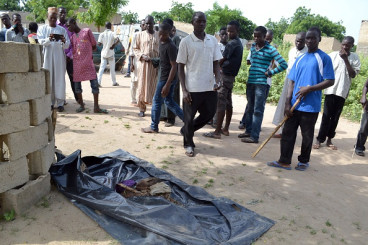 Battle against terrorism
Nigerian President Muhammadu Buhari has vowed his administration would end terrorism. However, NGOs warned that more than 1,300 people have been killed by Boko Haram in Nigeria and neighbouring countries since the leader took office in May.
Experts have also warned that the insurgency might expand to central Nigeria due to the concentration of military effort in the north, that is pushing Boko Haram members to other areas of the country, where they feel there are less troops.
Nigeria is currently leading a new task force against Boko Haram consisting of 8,700 troops from Nigeria, Niger, Chad, Cameroon and Benin. The Nigerian army recently said that it is closing in on the group and claimed some of its members are voluntarily surrendering. Boko Haram countered the claim with an audio message and a video saying that the government's claims are false.
Who are Nigeria's Boko Haram terrorists?
Boko Haram (recently renamed Iswap) fights against Western influence in Nigeria and aims to impose its version of Sharia law in the country. The group declared an Islamic caliphate in Gwoza, along the Cameroon border, in August 2014. Boko Haram has raided several cities in the north of the country in a bid to take control of more territory. Three states − Adamawa, Borno and Yobe − have been under a state of emergency since May 2013, due to Boko Haram's attacks.