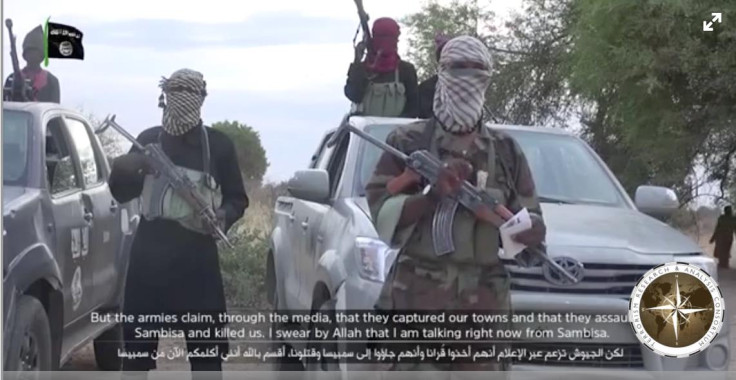 Terror group Boko Haram has killed 37 people in recent raids in several villages in Borno state.
Witnesses told The Leadership newspaper that the terrorists burned down hundreds of houses by hurling petrol bombs at them.
The attacks occurred in the Koshifa, Matangale, Buraltuma, Darmanti, Almeri and Burmar villages in the Damboa government area.
A member of the youth vigilante, Civilian-JTF, Ahmed Ajimi, who managed to flee to another village, said: "What we saw in the villages was really horrifying.
"Unlike before when they would gather people and open fire on them, the terrorists this time round, announced their arrival with sporadic shootings and throwing of what looked like petrol bombs on houses, which resulted in several burnt houses."
Boko Haram (recently renamed Iswap) has killed hundreds of people in the restive Borno state in recent days, after newly elected President Muhammadu Buhari announced the relocation of military headquarters from Abuja to Maiduguri, capital of Borno.
The militants also released a video in which they denied the government's claim that the army had recaptured some territories previously occupied by the insurgents. Shortly after the video, suspected Boko Haram members carried out a bomb attack in Yola, killing at least 31 people.
Buhari met with regional leaders on Thursday (11 June) to discuss future military strategies.
He said during the meeting that Nigeria should lead the anti-terror joint offensive and that a proposed six-month rotating command among the five nations could disrupt operations.
Buhari was quoted by AFP as saying: "Six months duration as it is being proposed... does not augur well for effectiveness and efficiency. Such a process will undermine, even if it is not intended, the military capacity to sustain the push against the insurgents, who also have the uncanny ability to adapt and rejig their operational strategies.
"I'm inclined on account of the above to suggest to your excellencies... that Nigeria retains the position of the field commander of the MNJTF [Multi-National Joint Task Force] for the period of the war effort."
Earlier in June, Buhari announced that Nigerian military headquarters were to be relocated from the capital Abuja to Maiduguri. The leader said the headquarters will stay in Maiduguri until the fight against the terrorists is over.