The family of the 19-year-old girl, who managed to escape from the clutches of Boko Haram in May, has asked the government for information about her condition. More than a month has passed since the girl, identified as Amina Ali Darsha Nkekei, was sent for rehabilitation and the family is now desperate to know more about her.
Nkekei was one of the 219 schoolgirls who were abducted by Boko Haram from her school dormitory in Chibok in north-east Nigeria on 14 April 2014. Calling on the government to expedite the release of the abducted girls, Nigeria's Bring Back Our Girls movement has also sought news about Nkekei.
It claimed that after the 19 May meeting with the president, no one has ever seen her. "It is now more than one month since Ms Ali was rescued and her avowed restoration process by the federal government as pledged by the president began. Having given a reasonable length of time, our movement has a number of concerns regarding Amina Ali as well as the rest of our Chibok girls still in the terrorist enclave," read a statement by the movement's founders Aisha Yesufu and Oby Ezekwesili.
"We are extremely disappointed with the evident lull in rescue actions and lack of any progress report."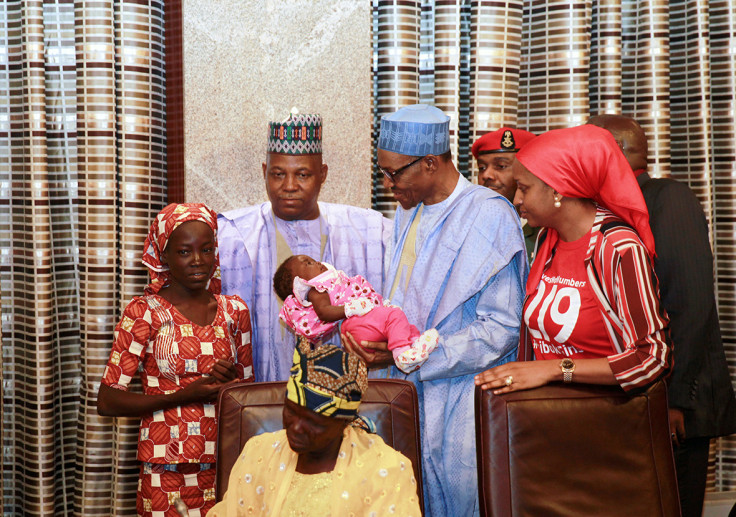 The 19-year-old, who was reportedly helped by a Boko Haram fighter escape, was spotted by the vigilante group on 17 May near Sambisa Forest – a stronghold of terror outfit – along with her four-month-old baby.
Soon after she was identified, Nkekei was flown to capital Abuja, for a televised meeting with President Muhammadu Buhari, who promised to provide her the best rehabilitation.
"Even this morning people came to my house asking if I had been able to find out her whereabouts. It's outrageous. Some people are crying. We don't understand why the government wants to keep her family away," Yakubu Nkeki, the girl's uncle said. He last saw her along with her baby Safiyah at the office of the National Security Adviser (NSA) on 19 May.
"We have had no credible information since, though I am told they are in the hands of the government," he added.