A Nigeria-led task force has recaptured a town in Borno state, northeastern Nigeria, controlled by Boko Haram militants. Mallam Fatori was recaptured after a fierce battle with the Islamist outfit as part of the Operation Lafiya Dole, the army said in a statement.
"The troops killed several of the Boko Haram terrorists in the resulting encounter and subsequently had to withdraw to a vantage position. The Operation is continuing," said army's spokesperson, Colonel Sani Kukasheka Usman.
The town was recaptured hours after at least 40 troops from the multinational force were killed when Boko Haram destroyed a convoy of the African Coalition Crusader forces.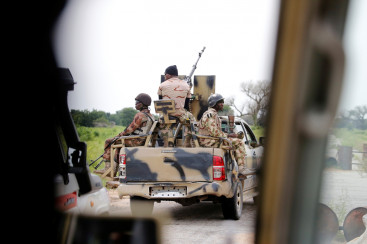 The task force consists of 8,700 troops from Nigeria, Niger, Chad, Cameroon and Benin.
The joint offensive has scored some success, such as the recapture of several territories and the release of thousands of civilians previously held captive.
The Nigerian army and government have often claimed the fight against Boko Haram was over. Nigeria's President Muhammadu Buhari declared a technical victory over the insurgents in December 2015.
However, Boko Haram still carries out attacks, with security experts warning that underlying issuessuch as disenfranchisement, poverty and strong links with the Islamic State (Isis) will continue to pose major threats to stability in the region.
In August, the Nigerian army's claim it had "fatally injured" Abubakar Shekau, the contested leader of Boko Haram.
Who are Nigeria's Boko Haram terrorists?
Boko Haram, which has renamed itself Iswap, fights against Western influence in Nigeria and aims to impose its version of Sharia law throughout occupied territories.
The group launches attacks in Nigeria and neighbouring countries in a bid to take control of more territory. Three Nigerian states – Adamawa, Borno and Yobe − have been under a state of emergency since May 2013.
Boko Haram was deemed the world's deadliest terror group, surpassing Islamic State in November 2015. Nigeria has also become the world's third most terrorised country as a result of the group's violent insurgency.