Boko Haram: 8 killed in latest attack as Nigeria becomes third most terrorised country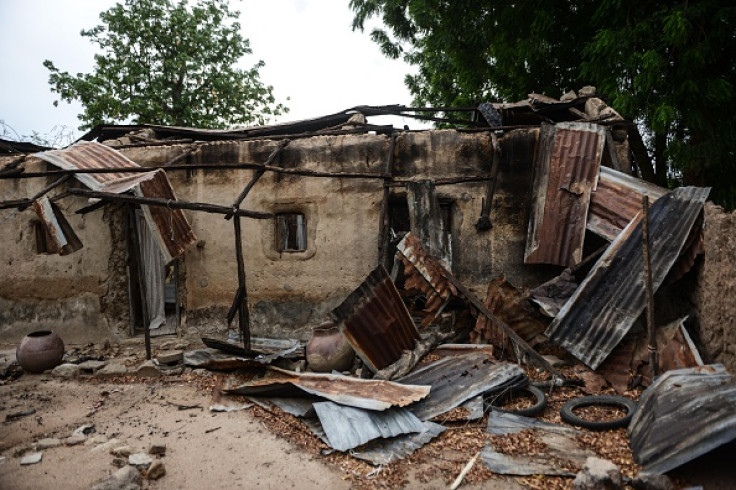 At least eight people have been killed in Maiduguri, capital of Borno state, in a suicide bombing blamed on terror group Boko Haram. Army spokesman Colonel Sani Usman said the victims were people who had been displaced from the town of Dikwa due to the terrorists' insurgency.
Dikwa was previously controlled by Boko Haram, but was recaptured by the military in July. However, lack of food and basic services made it difficult for the residents to return home.
The displaced people were undergoing security checks when the bomb detonated. The latest attack came hours after at least five people were killed and dozens injured when four suicide bombers detonated their explosives in Nigue, a suburb in northern Cameroon.
Boko Haram has killed between 17,000 and 20,000 people since its insurgency became violent in 2009. The militants, now affiliated with the Islamic State (Isis) terror group, is renowned for kidnapping civilians – mainly women and children – and forcing them to carry out attacks.
Maiduguri is the epicentre of Boko Haram's insurgency and is the group's birthplace. The town is attacked almost on a weekly basis.
Boko Haram directs its attacks at three states in Nigeria − Adamawa, Yobe and Borno − and northern Cameroon, with coordinated bombings also occurring in other parts of Nigeria, as well as Chad and Niger. In recent months, Chad and Niger have declared a state of emergency in areas affected by attacks blamed on Boko Haram, which has been deemed the world's deadliest terror group, surpassing IS.
Nigeria has also ranked third in the list of countries most hit by terror attacks in the 2015 Global Terrorism Index. Iraq and Afghanistan were ranked first and second. Findings suggested that Nigeria experienced the largest increase in deaths from terrorism in 2014 with at least 7,512 people killed in terror attacks by Boko Haram and the Fulani militants, the latter believed to have killed some 1,200 people in the past year.
The report added that in Nigeria "there were 5,662 more people killed from terrorism in 2014 than in 2013, an increase of 306%".
Who are Nigeria's Boko Haram terrorists?
Boko Haram ( renamed Iswap) fights against Western influence in Nigeria and aims to impose its version of Sharia law in the country.
The group declared an Islamic caliphate in Gwoza, along the Cameroon border, in August 2014.
Boko Haram has raided several cities in the north of the country in a bid to take control of more territory. Three states − Adamawa, Borno and Yobe − have been under a state of emergency since May 2013, due to Boko Haram's attacks.
Earlier this year, Nigerian President Muhammadu Buhari announced that a new Nigeria-led task force – consisting of 8,700 troops from Nigeria, Niger, Chad, Cameroon and Benin – was ready to take over in the ongoing regional fight against the terrorists.
In recent months, the Nigerian government has been claiming that Boko Haram is surrendering, but the group has disputed the claims in an audio message. The voice identified in the broadcast is thought to belong to Boko Haram leader Abubakar Shekau, who was rumoured to have been replaced after his conspicuous absence from the group's recent propaganda videos.
Some analysts have criticised Buhari for urging the military to defeat Boko Haram by November, a deadline subsequently moved to December. Analysts argued that more time was needed to defeat the group. In a recent interview with IBTimes UK, Usman said: "We are fighting the terrorists and we have a presidential mandate to make sure they are defeated by December," he continued. "By the end of the year, we have to make sure that Boko Haram will not have freedom of movement and action. In terms of the operation, we have been succeeding."
---
Nigeria up close: Check out our Flipboard magazine
---
© Copyright IBTimes 2023. All rights reserved.