The Nigerian army has recaptured the strategic town of Bama in northeastern Borno state from the Islamist terror group Boko Haram and blocked its march on the state capital of Maiduguri, according to a senior Nigerian official.
The official added that the government forces are also fighting a southward advance by the group into the neighbouring state of Adamawa.
"Bama has been recaptured by the soldiers and I can confirm to you Maiduguri is safe," the official in Abuja said.
The military had conducted air strikes on the militants' positions around the town following its capture last week.
A market trader from Bama, Babagana Modu, told Reuters that the soldiers now controlled the town.
Following its capture of other towns in Borno state such as Damboa and Gwoza, the group's leader Abubakar Shekau declared the creation of a "Muslim state" in similar fashion to that of Isis' caliphate which straddles the Iraqi-Syrian border.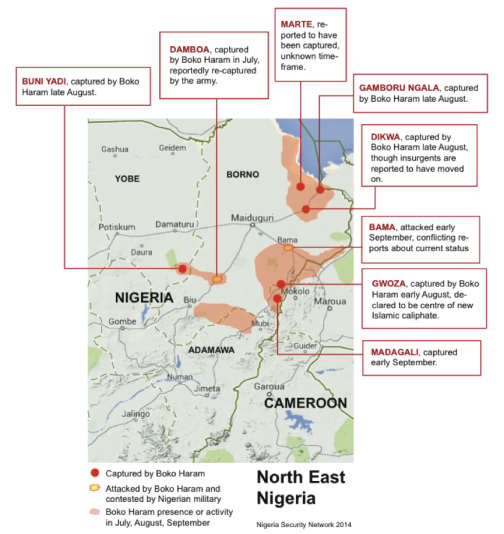 Last week, the Nigeria Security Network warned that an offensive on the city by the Sunni Islamist militants was imminent.
"If Maiduguri falls, it will be a symbolic and strategic victory unparalleled so far in the conflict," the group said.
"Unless swift action is taken, Nigeria could be facing a rapid takeover of a large area of its territory reminiscent of Isis's lightning advances in Iraq."
The seizure of territory in the country's northeast marks a change in tactics by the group who, until recently, were conducting hit-and-run raids on towns and villages in the restive regions.
Nigerian President Jonathan Goodluck, who is seeking re-election in February next year, has been increasingly criticised for his inaction against the terror group.
Earlier this year, the group – which wishes to expand its 'Caliphate' in north-eastern Nigeria –kidnapped more than 200 schoolgirls in the village of Chibok, bringing global attention to the west African nation's fight against terrorism.
Three states – Borno, Yobe and Adamawa – have been under a state of emergency since May last year.
According to Human Rights Watch, the militants have killed at least 2,053 people since the beginning of 2014.