The Nigerian government does not consider a separatist pro-Biafran movement in the south of the country as a threat to the current leadership.
Hundreds of people from former Nigeria's Eastern Region – renamed Republic of Biafra during a three-year-long independence between 1967 and 1970 – are calling for independence and are accusing President Muhammadu Buhari of trying to Islamise the southern part of Nigeria, mainly inhabited by Christians.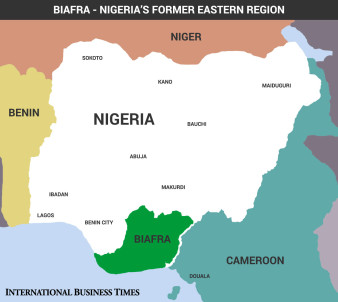 Biafra history
The Eastern Region, a former federal division of Nigeria with capital Enugu, became a secessionist state called Republic of Biafra after gaining independence from Nigeria in 1967. It was re-annexed in 1970 following the Nigerian-Biafran war that claimed one million lives.
After the end of the British rule in 1960, Nigeria consisted of territories that were not part of the nation before the colonisation, resulting in escalating tensions among the communities. People in the Eastern Region, mainly from the Igbo community, wanted to secede due to ethnic, religious and economic differences with other communities in Nigeria.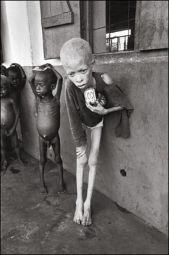 The Eastern Region gained independence following two coup d'etats in 1966 and 1967. The fact that Nigeria's oil was located in the south of the country played a major role in the eruption of the war, during which medicines and food shortage in Biafra led to the death of thousands of people.
Biafra has been commonly divided into four main "tribes": the Ibos, the Ibibio-Efiks, the Ijaws and the Ogojas.
The modern-day states that made up Biafra from the eastern region and midwest are: Abia, Anambra, Akwa Ibom, Bayelsa, Enugu, Ebonyi, ,Imo, Delta, Rivers and Cross River and Edo.
The accusation stems from reports alleging that some members of Nigerian terror group Boko Haram (originated in north-eastern Nigeria) have been relocated to the Ekwulobia Prison in the southern Anambra state.
Although the claim has been denied by the government, it prompted people to take to the streets and rally against the alleged relocation while they called for a second Biafra.
Before winning March's presidential election, Buhari told clerics he would not impose Islam on any individual.
He was quoted as saying: "I am not a religious fanatic of any sort and I have never been. In all my life, I have never supported extremism of any kind, and nowhere in my record of service to this nation can this false toga political opponents have tried so hard to put on me, be substantiated."
Government spokesperson Mike Omeri told IBTimes UK: "Buhari is a nationalist and it is not to be disputed that he wants a united Nigeria. Until today, he has not shown any intention to [adopt] a particular religious philosophy in this country."
Omeri defined pro-Biafran protesters as an "insignificant number of frustrated people who are not a threat to the existence of Nigeria".
He added: "Nigerians do not see this movement as a threat or a problem. In fact, I am not sure their voices are loud enough to attract attention. It is better that we do not celebrate that kind of view that is not really strong."
In a previous interview with IBTimes UK, London-based Yahgozie Emmanuel, member of Ekwenche research institute and editor of Biafra24, explained that a so-called "amalgamation contract" was issued by Britain during the colonisation aimed at integrating people from the north and the south of Nigeria within 100 years since it was issued.
The contract, now at the National Archive of London, was created in 1914 by Frederick John Dealtry Lugard, the governor general of Nigeria at the time. The document, opposed by the political class and the media in Lagos, expired in 2014.
"This means that the component parts of what was Nigeria can now go their ways," Emmanuel said. "Biafra was known as a provincial system which didn't recognise any of the states created by Nigeria and its agents.
"In 1970, Nigeria divided the people to decentralise the unity of Biafrans. We believe that the 36 States and 774 Local Government structure imposed via decrees by officers from the occupational government of Nigeria render the people of Biafra an insignificant minority."
Emmanuel said of Buhari, a former general believed by some to have conducted military operations that amounted to war crimes in Biafra, as: "A known sympathiser of the sharia whose role in the 1966-1970 genocidal campaigns against the peoples of Biafra remain starkly unaddressed and presents a grave concern to our peoples."
Pro-Biafra movements
Movements that call for a secession are scattered across southern Nigeria. The Movement for the Actualization of the Sovereign State of Biafra (Massob) fights for the independence of south-east and south regions of Nigeria.
The Nigerian government has accused Massob of violence and its leader, Ralph Uwazuruike, was arrested in 2005 on treason charges. He was released two years later.
The Biafra Zionist Movement, led by Barrister Benjamin Onwuka, was created in the early 2000s. It spun out of Massob, and advocates the legitimacy of Briafa.
BZM declared a new state of independence on 5 November 2012, at an event during which at least 100 peaceful protesters were arrested.
In 2014, BZM stormed a radio station announcing the rebirth of the Biafran Republic. In a statement released after the incident, the group explained it had lost faith in the country following years of neglect and continuous killing of Igbos.
"No amount of threats or arrests will stop us from pursuing our freedom – self-determination for Biafrans," said Edeson Samuel, national chairman of BZM. "We were forced into this unholy marriage but we don't have the same culture as the northerners. Our religion and culture are quite different from the northerners."
Nigeria up close: Check out our Flipboard magazine