Nigeria: Credible evidence that pro-Biafrans are targeted by police says Amnesty International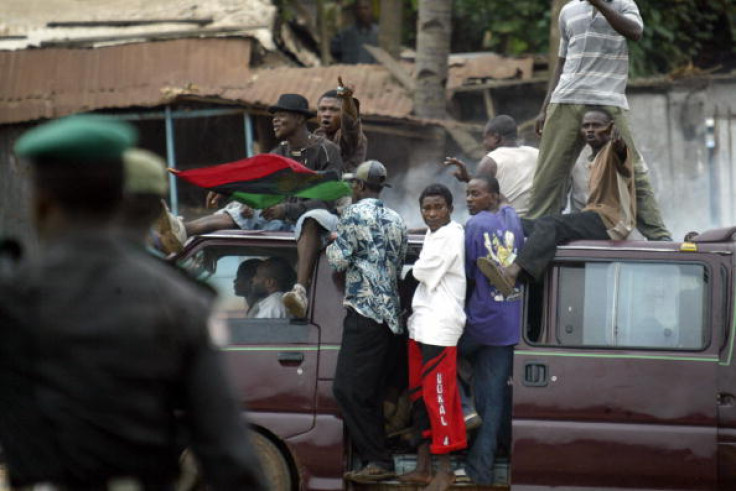 There is evidence that pro-Biafran separatists in Nigeria are targeted by police, Amnesty International told IBTimes UK, one day after dozens of people belonging to groups advocating for a separate state were arrested.
It is believed that dozens of members of the Movement for the Actualization of Sovereign States of Biafran (Massob) were arrested after the inspector general of police, Solomon E Arase, released a statement urging authorities to clamp down on people who behaved violently across the country. The statement read: "This directive becomes imperative owing to recent activities of members of the Massob and the Indigenous People of Biafra [Ipob] in some parts of the country."
What is the Republic of Biafra?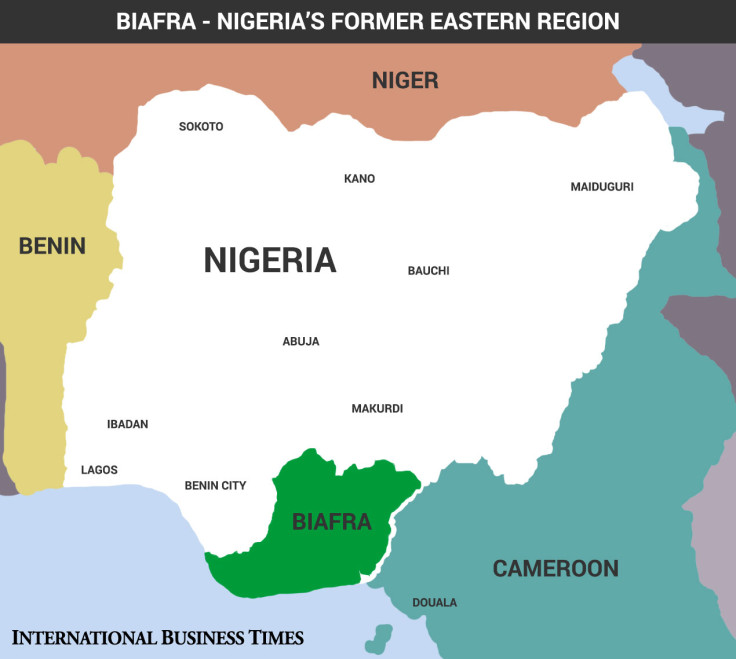 Nigeria's former Eastern Region was proclaimed the Republic of Biafra in 1967. It was re-annexed to Nigeria three years later, following a civil war that claimed between one and three million lives.
The fact that Nigeria's oil was located in the south of the country played a major role in the eruption of the war, during which medicines and food shortage in Biafra led to the death of thousands of people.
Biafra has been commonly divided into four main "tribes": the Ibos, the Ibibio-Efiks, the Ijaws and the Ogojas.
The modern-day states that made up Biafra from the eastern region and midwest are: Abia, Anambra, Akwa Ibom, Bayelsa, Enugu, Ebonyi, Imo, Delta, Rivers and Cross River and Edo.
Pro-Biafrans believe the modern-day Nigerian states that made up Biafra should be part of an independent state as people who inhabit these areas, and identify themselves as southerners, feel disenfranchised from those in the north.
The number of people arrested, originally thought to be around 200, was confirmed by the police to stand at 22. Four people were arrested in Anambra State, six in Imo, one in Abia and 11 in Delta State. They were all Massob members.
Amnesty said that after speaking with "dozens of Biafran activists" in the last few years, they believe that pro-Biafrans are targeted by police. A spokesperson for the group said: "There is credible evidence that they have been arbitrarily arrested, tortured and jailed in the past. They are still targeted by the police."
The spokesperson added that according to estimates from one of the group's researchers, there could be "at least two dozen Biafran activists in almost every prison in the south east of Nigeria".
When contacted by IBTimes UK, Oleehkukyu Ali, spokesperson for the police in Anambra – one of the states where the Biafran activism is mostly widespread – said:" Recently, in this and other states in the country there has been a kind of excitement from members of pro-Biafran groups, and this excitement has led to their processions to become chaotic.
"So the police received instructions that anybody who incites in the name of any group people to go on processions that are violent in nature should be arrested."
Pro-Biafran activists have also alleged that the Nigerian police act violently against them. Unconfirmed reports said that three or four unarmed members of Ipob were killed by the Navy in Onitsha, Anambra, on 30 August.
Ifeanyi Adibe, a member of Ipob, told IBtimes UK that mass arrests, kidnappings, torture and killings of pro-Biafrans are "not a new thing". He alleged: "Hundreds are known to have been abducted in the middle of the night from their homes and [they] undergo torture in various underground Nigerian torture chambers. Many more are unaccounted for. The number of those already killed can not yet be established, but we know many are missing.
"The total lack of infrastructure and communication system has made it near impossible to get real time information of, or from Biafra terror victims," he continued. "We are monitoring the situation as close as the blackout allows us, but more importantly, we are having serious challenge convincing our dying and over stretched people to still remain calm and non-violent or fight back in legitimate self-defence."
Ali rejected the allegations of violence. He said: "We do not have any problem with pro-Biafrans here, the police are not violent against them. Any group has the right to associate, but if such group wants to do any procession, they should do it within the ambit of the law.
"Processions and demonstrations should not be detrimental to the state," he continued. "They should be done in line with the constitution, without violating the law of the land or infringe people's rights. But these groups went on a rampage in a number of areas, they caused a lot of traffic congestion and damages. But even when police was deployed, there was no violence, no problem at all.
"Pro-Biafrans are not considered as a threat, but inciting people to [participate] in violent processions is against the law and no government watches any group operates under such conditions."
© Copyright IBTimes 2023. All rights reserved.