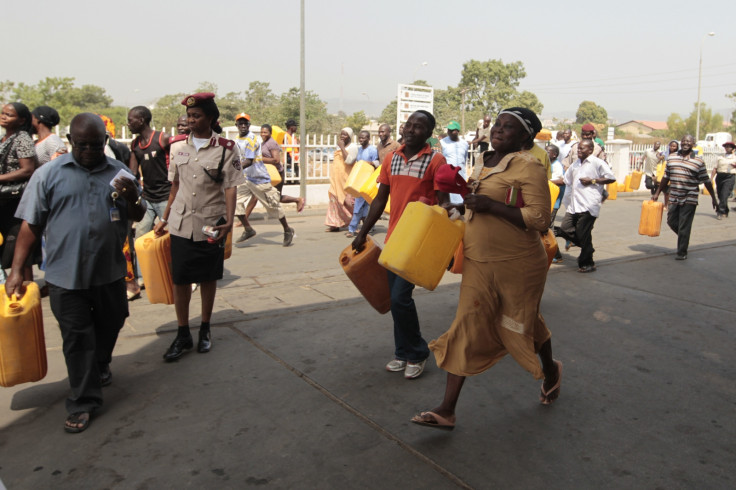 Campaigners are urging the UK government to review its participation in Nigeria's energy privatisation programme, which has sent prices soaring and crippled local businesses.
On 30 September 2013, Nigeria's President Goodluck Jonathan handed over licences to the private purchasers of electricity generation and distribution companies, as part of a DFID-funded programme dubbed the Nigerian Infrastructure Advisory Facility (NIAF).
Overall, the UK's Department for International Development (DfID) has used around £30m ($46.2m) of UK taxpayers' money to provide support the power sector as a whole. Of that, £3m has been spent directly on supporting the power privatisation.
While Nigeria's inadequate electricity service was a national issue for decades (the state-owned monopoly Power Holding Company of Nigeria, PHCN, was commonly nicknamed "Please Have Candle Nearby"), campaign groups claim the UK government's participation in the denationalisation push is only making matters worse.
The campaigners' calls come as, on 25 February, Nigerian electricity consumers called for a suspension of a new "astronomical and inappropriate" 45% increase in tariff in the commercial and industrial sectors - a result from the privatisation.
Worsening situation
"Nigeria has huge economic potential but a lack of reliable power is holding back its development, despite decades of public investment in the state energy provider," a spokesperson for DfiD explained to IBTimes UK. "UK support to improve Nigeria's infrastructure will help drive economic growth, create many more jobs and improve the lives of millions of Nigerians."
While local campaigners agree money needs to be spent in supporting developing countries to make sure everyone has access to the energy, they claim the privatisation programme was unwanted and has had "disastrous" effects.
"Nigerians have been blackmailed into believing that there was no solution to the electricity challenges without privatisation," Ken Henshaw, senior programmes manager with Nigerian-based NGO Social Action, told IBTimes UK.
Christine Haigh, climate and energy campaigner at Global Justice Now, claims UK participation is worsening the situation faced by millions of Nigerians.
"We think it's outrageous that public money is being used to support a privatisation scheme in Nigeria. Privatisation has a terrible track record of delivering that, and this is not the route that the DfiD should be going down," Haigh said.
"We would like to see the DfiD stop supporting projects like this and have a decisive shift away from supporting this kind of privatisation towards supporting publicly or community-owned solutions."
A controversial programme
Unions representing workers in the energy sector claim 50% of them have been laid-off by the private companies as a result of the transfer. Global Justice Now estimates that figure to be 30,000.
A spokesperson at DfiD confirmed the Nigerian government has compensated those who have lost their jobs following privatisation and has implemented a programme to retrain the workers.
"It [privatisation] has not improved people's access to electricity, and in many cases it is making it harder because what tends to happen is that prices go up," Haigh explained.
Electricity consumers have called on the state regulator, the Nigerian Electricity Regulatory Commission (NERC), to suspend the implementation of the new electricity tariff, which it set in January after consultation with stakeholders.
Spokespeople for the Nigerian commercial and industrial sectors, who have accused price rises of paralysing businesses, are calling for a suspension of the new tariffs representing a 45% increase on existing rates.
Small businesses relying on electricity, such as hairdressers, have had to shut down, Global Justice Now research found.
Outrageous bills
Recently, consumers have also descended to the streets to protest either epileptic power supply or outrageous bills by the distribution companies.
The "estimated" bills result from the non-metering of customers – whereby the electricity companies send them bills that does not correspond to the electricity they consumed.
In some instances, residents who complained of the estimated billing, were advised by officials of the power company to pay the money irrespective of the amount being charged, explains Henshaw.
He claims the privatisation investors "are only concerned with how much money they can recoup in as short a time as possible".
"That's why they have drastically increased the price of electricity and introduced fixed charges – regardless of whether they provide electricity or not. Where in the world do people pay for services not rendered?" he said, speaking at Port Harcourt.
To attract outside investors, the privatisation was initially followed by the introduction of a standing charge and higher "cost-reflective tariffs" for residential and commercial electricity customers, namely a price rise of between 25% and 88%.
Most customer classes have already seen a 50% increase in their bills, Haigh explained, highlighting the fact the rises were "not just an unfortunate side-effect but had been built into the reforms purposefully".
"Regardless of whether or not the privatisation process leads to better power supply, the truth if that with the recent frightening increases in the cost of electricity, the vast majority of Nigerians won't benefit from it as they can't afford it," Henshaw said, highlighting the fact that 67% of the people in Nigeria live on less than $1.25 a day.
A spokesperson for DfiD dismissed the comments: "Electricity prices for the poorest households have decreased in real terms and fixed charges for these households have been abolished."
Unable to deliver
Henshaw, who describes the programme as a "spectacular failure", claims the majority of Nigerians still have to depend on themselves to provide their own power, amid rising blackouts and a shrinkage in the amount of power generated by the power stations.
"Millions of homes generate their own electricity with battery inverters and gasoline generators, with public power supply being seen as a back-up at best," he said.
Meanwhile, the Nigerian federal government is struggling with the inadequate supply. It has had to budget 837m naira (£2.7m) to fuel and maintain generators to just keep its offices running because it cannot rely on the national grid to power them, Haigh explained.
As falling oil prices continue to dig into government revenue (down 18% in 2015), commentators anticipate the upcoming presidential elections could sway under the multitude of challenges faced by Nigeria's power industry.