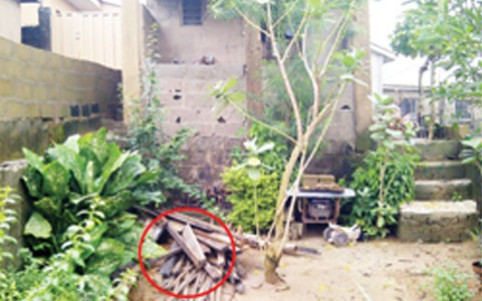 A 34-year-old man from the Nigerian city of Lagos has been arrested after allegedly flogging his teenage son to death and burying his body.
Arogundade Ahmed is accused of torturing his 13-year-old son, Qudus, to death after finding out the boy had broken into someone's house and attempted to steal.
Ahmed was taken into police custody after neighbours saw the makeshift grave he had allegedly built for his son's corpse in front of his house and raised the alarm.
According to local press, he killed his son in the presence of his little sister, Sherifat, on 27 June.
"We were told that on the said date, Qudus broke into the house of one Apoti Lateef and attempted to steal. Lateef raised the alarm, accosted the boy and then called his [Qudus's] master, Idowu Gabriel," a senior police officer at Ipakodo Police Division told news site Punch under the condition of anonymity.
"Gabriel and Lateef said they tied up the boy and then called his father to take him away."
Once at home, Ahmed is said to have beaten Qudus for five hours with barbwire, sticks and other objects until he become weak and later died.
According to eyewitnesses, after realising he had killed his son, Ahmed called a grave digger to help him bury the corpse.
Adekunle Adekoya said that neighbours did not intervene during the assault as Ahmed was known to be a hot-tempered man.
"The boy kept on screaming and we could do nothing to save him because we did not want his [Ahmed's] trouble.
Ahmed, who is being held on murder charges, denied attacking the victim. He said the youngster was beaten after he was accosted for stealing and was almost dead when he came to collect him.
A police source said that Ahmed "said he [Qudus] was almost dead when Lateef and Gabriel handed him over. He said his son died soon after and then buried his corpse in front of his house and went to bed."
Lateef and Gabriel have also been arrested as part of the on-going investigation. They both deny beating the boy.