Nigeria's president will talk to Trump from London where Buhari is having treatment
Trump set to have phone calls with South Africa's Jacob Zuma and Buhari on 13 February.
A spokesperson for Nigeria's President Muhammadu Buhari has confirmed to IBTimes UK that the head of state will have a phone conversation with his US counterpart Donald Trump today (13 February). "It is confirmed. It will take place at 3:45 Nigerian time, 2:45 London time," Femi Adesina said.
The spokesperson then then confirmed that Buhari was still in London, where he is undergoing medical treatments.
Nigerians have become increasingly concerned with the health of their head of state, who was scheduled to return to Nigeria on 6 February. However, Buhari prolonged his stay to complete medical tests recommended by doctors.
The move fanned further rumours about his deteriorating health and is likely to erode confidence in his administration, in spite of the presidency's efforts to reject allegations of poor health.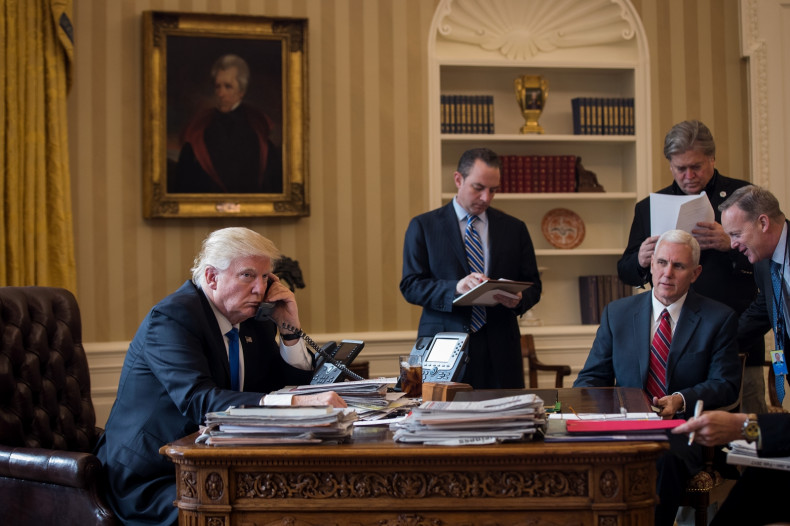 The Nigerian presidency has released several statements dismissing allegations Buhari was gravely ill or even dead after fake versions of news websites Metro UK and the Huffington Post reported that the leader had died and "was caught committing suicide".
On 9 February, the presidency posted on social media pictures of Buhari meeting senator Bola Ahmed Tinubu and Chief Bisi Akande at Abuja House, in London's Holland Park, west London.
Trump is also expected to have a phone conversation with South Africa's President Jacob Zuma. South Africa's presidency confirmed it had received " a request from the White House" for a phone conversation with the head of state. It is not clear yet at what time the call with Zuma will take place.