Talking to Syrian refugees trying to rebuild their lives in Lebanon and Jordan or those who have made the desperate journey west to Europe, there was a sense of hope: they were fighting for a better life and, albeit imperfectly, the world has been made to sit up and listen.
But here, stretched out on the cracked, dusty earth before me sits a deflated population: people who are starving to death where they are but who are too weak to keep moving. People whose hopes have been extinguished, and who have offered themselves up to God.
"I must leave everything in God's hands now." That was the final sentence of a conversation I had with Chief Ibrahim, from a town in the south of Niger on the border with Nigeria. A month ago, he was forced to uproot his town of 3,000 inhabitants and move them north, further into Niger and away from the border. Increased attacks by militants from the Nigerian side of the border have plunged the region of Diffa into a state of emergency, with the Niger government forcibly emptying towns judged to be at high risk because of their proximity to the border.
"It was not our choice to come here but we were told it was for our own safety," says Chief Ibrahim, shaking his head. Damasak, a town two kilometres across the border in Nigeria, had just been stormed by armed groups. The same town had also been the target of a school abduction by militants, even larger than a similar incident in Chibok which garnered and continues to attract global media coverage, but the kidnapping of 300 schoolgirls 18 months ago in Damasak has gone largely unacknowledged by the rest of the world.
"My people were hard workers and we lived comfortably," Chief Ibrahim told me. "We grew paprika, tomatoes and onions; our town alone provided Diffa city with 90% of its fish. We ate well, we were happy. Now, we just have to sit here, waiting for help."
After they were relocated, the government promised them that they would receive assistance but so far, none has materialised. Chief Ibrahim has appealed to the government a number of times asking for food and water but has received no response. "We don't want to be dependent on hand-outs, we asked for land to farm but we have been refused that as well," he explains.
He sits there, calm and controlled, but there is a quiet anger in his voice, further strained by a sense of immense fatigue. "Since we arrived, my cousin Halima's three-year-old son got lost wandering in the bush and died of thirst. As chief, traditionally, I'm responsible for my people – any of their deaths fall on me. But I don't accept that I should hold the responsibility for his death. I have no power any more but I will continue to demand the government uphold its promises to us."
Normally, every year at the end of Ramadan, Chief Ibrahim and all the heads of families in the village give out Sadaqat – alms to the poor. "But this is the first year we weren't able to," he says. "We haven't even been able to fast ourselves, as there's just not enough food for us to break the fast with at the end of the day."
I saw another woman die as she was actually in labour on the side of the road.
In the past two months, attacks in the south-east corner of Niger have intensified, triggering waves of displacement across the region. At another settlement nearby, Atcha Moussa Dala, a quiet young mother of two with a beautiful black scarf embroidered with gold, narrated what happened when fighters came to her village;
"It was about seven o'clock on Friday evening, just as we were preparing food. They were dressed in official military uniforms and drove official military cars so we didn't realise anything was wrong until they started shooting. When I heard the guns I just ran inside and hid. I didn't eat or drink or sleep. I just sat there, motionless, thinking that we were going to die. I remember it being so hot and stuffy inside the house but I had one of my sons curled up on my lap and the other tight at my side. All night."
Surrounding us are dozens of huts, and beyond that, more settlements sprawl out across the wasteland. A few months ago, this expanse of land in the arid Diffa region of Niger was completely empty. It is baking hot, but apparently we are just entering the rainy season. This would normally be a cause for celebration, a relief after the scorching hot season and a promise of good harvests. This year, however, with some villages torched to the ground and others at high risk, families have been forced to flee their homes and will not reap their harvests. With only basic shelter and scarce access to food and water, children in particular are at risk of illness and disease.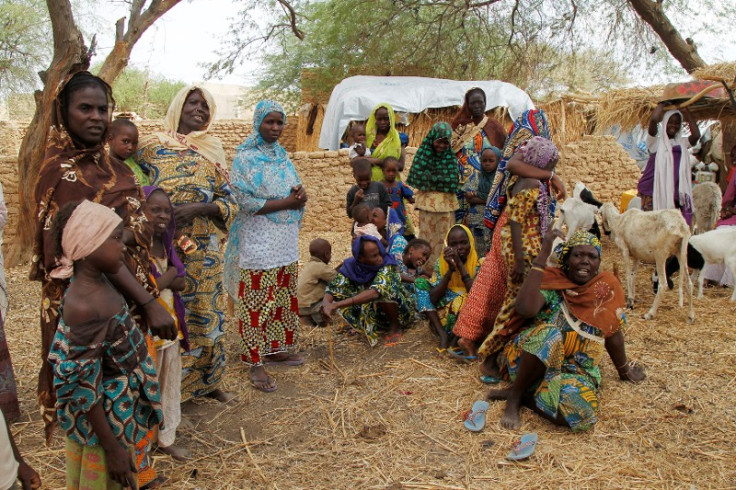 Niger, ranked by the UN as one of the poorest countries in the world, is a vast and arid region largely consumed by the Sahara Desert. It suffers from drought, conflict and chronic poverty. Yet it has also recently become home to over 280,000 refugees living in Niger. They are some of the 2.7 million people who are currently dispersed across the Lake Chad Basin region.
Atcha's neighbour, Ya Kaltuma, tells me, slowly, about what the journey was like from their town: "I feel like I saw everything that day. People were dying of thirst right in front of us. One of my neighbours died just after she gave birth to a still-born baby. I saw another woman die as she was actually in labour on the side of the road. Any time we saw a bit of water on the way, we drank it. It didn't matter how dirty or contaminated it was. It was water. The week before we'd been fishing from our house on one of the islands in Lake Chad. Now we're dying because there's no water."
We've been forced to sell our clothes to survive but what will happen after we have nothing left?
Atcha goes on to tell me that after all that, they still don't feel safe. Following a government visit a few weeks ago, the place where they are staying was itself attacked by militants. "We're all still afraid, the men as much as the women. I feel like I've been taken away from paradise and placed into hell. Nowhere seems safe. The women are receiving some dignity kits from CARE in this area but, apart from that, no-one has come to help us. We've been forced to sell our clothes to survive but what will happen after we have nothing left?"
CARE is rapidly scaling up its emergency response drilling boreholes in settlements that have little or no access to water. We're also providing shelter kits to protect families from the oncoming rains as well as emergency food prioritising babies, pregnant women and children who have been separated from their families. Nevertheless, talking to Chief Ibrahim, Atcha and others from the dozens of settlements that have recently sprung up here, the sense of need and desperation is overwhelming. The humanitarian situation in Diffa is rapidly deteriorating and the current response is not keeping pace.
Instead of focusing on military action, urgent support needs to be given to the government of Niger and NGOs to cope with this growing and very much overlooked crisis. Only 16% of necessary funds for the humanitarian response in the Lake Chad Basin region has been received. These people, who until recently were living a peaceful and comfortable life, need the world to sit up and take notice.
---
Laura Gilmour is News Editor at CARE International UK, focusing on emergency response. She lived in the Middle East working with women's communities and refugees for two years, going on to work at the UK parliament before joining CARE UK.
---