Dizzying footage of teenager Harry Gallagher's ascent up Canary Wharf's One Canada Square skyscraper – where he touched the 770ft high iconic pyramid at the top – has seen the parkour star become an internet sensation.
The YouTube clip, showing him and a friend evade security before clambering onto the roof via an unlocked door, has now been viewed more than 800,000 times and made headlines in the mainstream press.
But far from being simple thrill-seeking stunts, the 19-year-old's daredevil exploits have turned into a serious, money-making business.
Boosted by his YouTube channel's half-a-million subscribers, and 74,000 Instagram followers, the youngster has become just the latest of his generation to turn 'Likes' on social media into full-time employment.
Fans of his videos – who see his urban exploring as adventurous rather than reckless – were said to have first started buying his Nightscape branded merchandise in their droves four months ago.
In October 2016, Gallagher and cohorts uploaded a video of their climb to the top of West Ham's new football stadium in the Olympic Park, East London. The clip went viral, gaining more than four million views on YouTube.
And what followed, his mother says, was the point of it all – a flood of online orders for Nightscape T-shirts and hoodies.
"We come from a modest background and never had any financial stability," Amanda Gallagher, a croupier from Barkingside, East London, told The Times.
"The day he went up West Ham [stadium], we couldn't buy a jar of coffee that morning. By that night he'd gone viral. That's when he came to me and said, 'Now, you get it, Mum. Now you see what this is, what it's all about.' "
She said: "I know he's not just doing it to get an adrenaline rush. He's doing it to keep bread on the table and a roof over our head."
Free-running since the age of 11, Harry's other videos include sneaking into Doncaster Robin Hood Airport, climbing up towers and scaling cranes. He has, this week, just returned from Dubai, where he had been shooting content for his next video.
His mother, who runs the online Nightscape shop in her spare time, says she is "extraordinarily proud" of her son, but admits feeling uncomfortable watching his daredevil stunts.
"It's a double-edge sword," she said. "Nobody wants their child risking life and limb. His [older] brother was the freerunner in the family but he gave it up because decided he didn't want to kill himself. Harry never had that fear. He just has this passion for it. He is fearless.
"As a parent, you can't stop that journey. You can't repress them. You have to find the strength to just roll with it."
She added: "Obviously, I'd rather have my son than £1m. All the years of begging, pleading, trying to make him stop, got me nowhere. It just falls on deaf ears. All of us, his friends and family, we all walk around with our hearts in our mouth when it comes to Harry."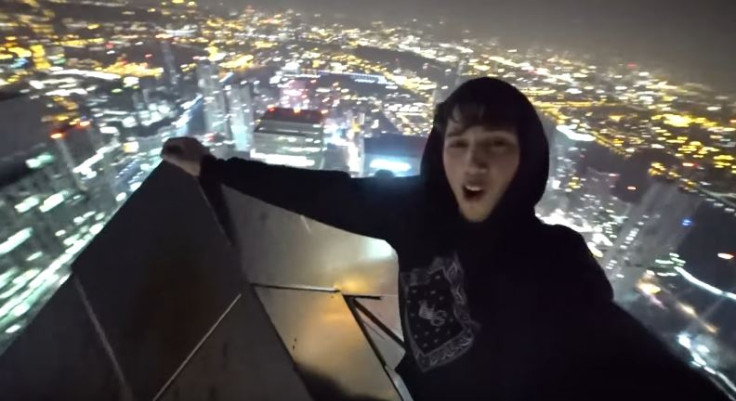 The dangers for the growing number of freerunners and urban climbers filming their high-risk exploits for online hits was brought into stark perspective last month.
On 1 January, Nye Frankie Newman, 17, from Guildford, died in a train accident in Paris while filming with friends from his freerunning group.
Last week, Russian model Victoria Odintcova, 23, was also told off by authorities for a high-risk stunt after being pictured dangling from the 306m Cayan Tower in Dubai, holding nothing but the hand of her assistant. The photo went viral and she now boasts 3.3m Instagram followers.
But Harry, who featured in ITV's Secrets of Growing Up in 2016, said he is confident he knows his limits and can keep safe.
He told The Times: "You don't mess about with trains. When I'm climbing, I know I can trust my own body. I always have three points of contact. I stay focused. With trains, there are too many variables. There's an inevitability about it."
While he may feel he can keep pursuing his risky career safely, his run-ins with the law are almost inevitable.
A game of cat-and-mouse with the police has seen him arrested on suspicion of trespassing numerous times, he says, with his equipment also being confiscated by officers.
The Met Police have already said it is investigating whether any crime was committed during Harry's latest exploits in Canary Wharf.
The owner of One Canada Square, the Canary Wharf Group, said: "Security is taken extremely seriously at Canary Wharf. We invest heavily in our security and review the processes on a regular basis.
"Current arrangements have been tightened, while our security procedures are being reviewed and an internal investigation conducted. We are working closely with the Metropolitan Police on this matter."