This is the astonishing moment two young daredevils climbed to the top of a 770ft (235m) iconic skyscraper in London's Canary Wharf – the second tallest building in the UK.
A video of the pair, uploaded to YouTube, shows them set off alarms as they leap over the security barriers at One Canada Square, before taking the elevator and emergency stairs to the top of the 50-floor building.
The 10-minute clip then sees them climb onto the roof and scale the outside, filming themselves as they perch on the building's famous pyramid at the summit.
Sitting about 770ft from the ground, they then admire the night-time views of London as their legs dangle off the edge of the building.
At the beginning of the video, one of the pair says: "We're here on a bit of a whim today. We have a little challenge that we want to try and do.
"It's a long-shot, and by a 'long-shot' I mean this is almost impossible. Today, we are going to try and infiltrate the building called One Canada Square."
Evading the building's security and finding a door leading to the roof unlocked, they express astonishment at having been able to manage the feat.
When at the top, one of the hooded youngsters says: "We have literally managed to get to the roof of the pyramid. This is actually insane ... I can't believe we're actually up here."
He adds: "Should we touch the top? I need to touch the top of the building. I have done it. I have touched the top of Canary Wharf.
"My heart is pounding. We can literally see the whole of London, just everything."
The video was uploaded to YouTube on Monday (20 February) by user Night Scape, which has several other videos showing climbs up other buildings in London.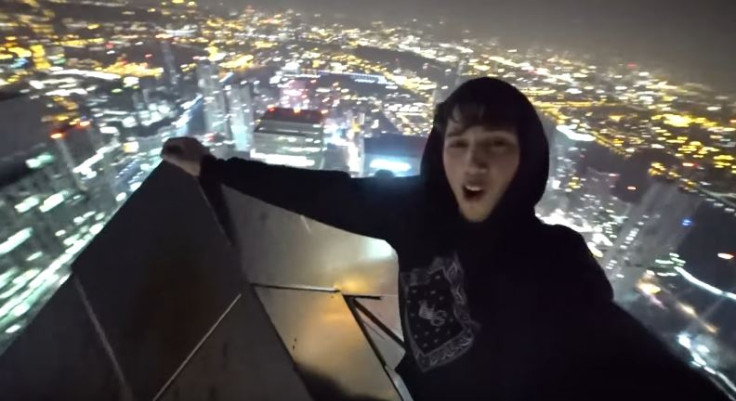 One Canada Square was the highest building in the UK until 2010, when it was surpassed by the 1,016ft London Shard.
The building's owner, the Canary Wharf Group, has been contacted for a comment.
A Met Police spokesman said: "We are aware of footage online depicting people gaining unauthorised access One Canada Square.
"We will liaise with the building operators to assess whether any offences have been committed."