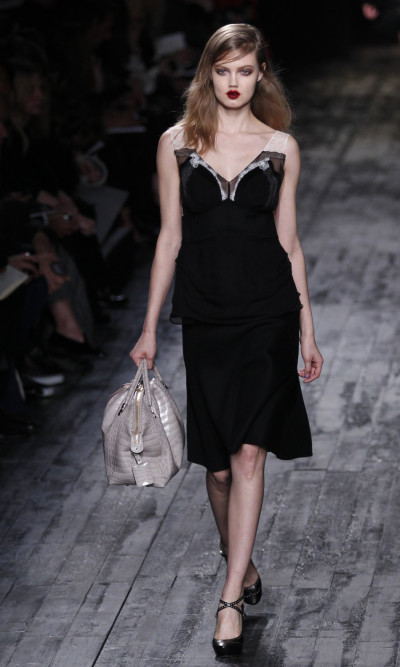 Nina Ricci's Creative Director Peter Copping presented a seductive yet sophisticated collection on Day 2 of the Paris Fashion Week. The Fall/Winter collection of the designer involved a playful mixture of designs and patterns inspired by the label's archives from the 1950s.
Each of the creations was accessorised with various forms of embellishments, ribbons and fabric flowers to add a dramatic feel to the show. In addition to this, there were tweed evening coats for the Fall collection.
According to Fashion Wire Daily, for Fall, Copping wants women swaddled in protective boucle wool coats, yet seductive underneath in lingerie tops. His very contradictory instincts capture the current mood in Paris fashion.
Former women's studio director at Louis Vuitton, Copping joined the label Nina Ricci after replacing Brussels-born designer Olivier Theyskens of Rochas. The designer's first ready-to-wear show for the house, for Spring 2010, played to Ricci's romantic past but kept an eye on wearability.
The house of Nina Ricci founded by Italian-born French designer Maria Ricci is known for its romantic gowns and fragrances. Following Ricci's death in 1970, a number of designers came and went. However, it was designer Lars Nilsson who gave a new identity to the brand with his exclusive creations. He resigned in 2006 and his successor, Olivier Theyskens took the label in his own direction, repositioning Nina Ricci as a go-to house for standout gowns with an edge.
For the current collection, Copping experimented with footwear like booties with multi-grommets and with vertical zips. For most of his creations, he resorted to shades like bright plums, blues and scratchy pinks.
Start the slideshow to catch a glimpse of the Peter Copping for Nina Ricci collection at the Paris Fashion Week: