The Federal Court of Abuja, capital of Nigeria, denied bail to the leader of a pro-Biafran secessionist group today (Thursday 1 December). Nnamdi Kanu, leader of the Indigenous People of Biafra (Ipob) and director of UK-based Radio Biafra, is standing trial on 11 counts of treasonable felony charges.
Pro-Biafrans call for the independence of contested Biafran territories forcibly annexed to Nigeria during British colonisation.
A Biafran Republic was established in 1967 but re-annexed to Nigeria in 1970, following a bloody civil war that claimed millions of lives.
Charges 'not ordinarily bailable'
Chidiebere Onwudiwe, Benjamin Madubugwu and David Nwawuisi, who are facing trial alongside Kanu, were also denied bail, local media reported.
The defendants said the bail would enable them to properly defend the charges against them, but the prosecution opposed, claiming the four could pose a threat to the security of the country.
In her ruling, newly appointed Justice Binta Nyako claimed the charges were "very serious in nature", and not ordinarily bailable, the Vanguard newspaper reported.
"Irrespective of what the charge is, the court has to exercise its discretion on way or the other," the judge said, adding some of the charges carry life imprisonment as a punishment.
"I hereby therefore refuse bail of the applicants. But in the alternative, I hereby order accelerated trial of this matter to almost commence immediately, but not later than two months."
The prosecution also applied for all the witnesses to be allowed to testify behind screens to protect their identity, something the defence has strongly opposed to.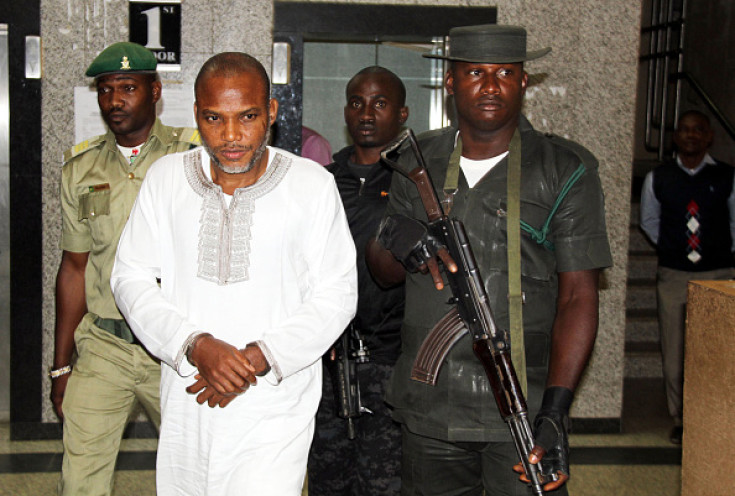 Nnamdi Kanu
Kanu, who holds both a British and a Nigerian passport, was arrested in Lagos on 14 October 2015. The Abuja High Court initially ruled in favour of granting bail to Kanu.
However, in December 2015, President Muhammadu Buhari said the Ipob leader would not be released amid fears he could jump bail and flee to the UK.
Kanu was previously facing a six-count treason charge with Madubugwu and Nwawuisi, before the federal government amended the charges to include Onwudiwe .
Earlier this year, the judge presiding over Kanu's case stepped down. Justice Nyako is now the third judge to handle the high-profile trial.
---
Nigeria up close: Check out our Flipboard magazine

---