South Korean President Moon Jae-in on Monday (14 August) called on North Korea to immediately stop its threatening behaviour and also urged the US to act "responsibly" amid simmering tensions between the Kim Jong-un regime and the Donald Trump administration.
He said the issue surrounding North Korea's repeated missile launches, defying the UN Security Council resolution, must be resolved peacefully and not through war. Both the US and North Korea have been engaged in a bitter war of words.
"There must be no more war on the Korean peninsula. Whatever ups and downs we face, the North Korean nuclear situation must be resolved peacefully," Reuters cited Moon as saying.
Addressing a regular meeting with his top aides and advisers at the presidential office Blue House, Moon said: "I urge North Korea to immediately stop all provocations and threats, and stop making the situation worse."
He voiced his strong opposition to any armed conflict and said he believed that the Trump administration would respond to the current situation in the Korean peninsula "calmly and responsibly".
The national interest of South Korea is peace and it comes before anything else, Moon added.
"Peace on the Korean peninsula will not come by force. Even if peace and negotiations require pain and patience, we must do so," Moon said.
He assured North Korea of providing a better future by improving inter-Korean exchanges should Pyongyang choose to make "the right decision".
Moon also sought to assure South Koreans, saying he was managing the crisis safely and that Seoul was prepared to take all necessary steps to face any eventuality.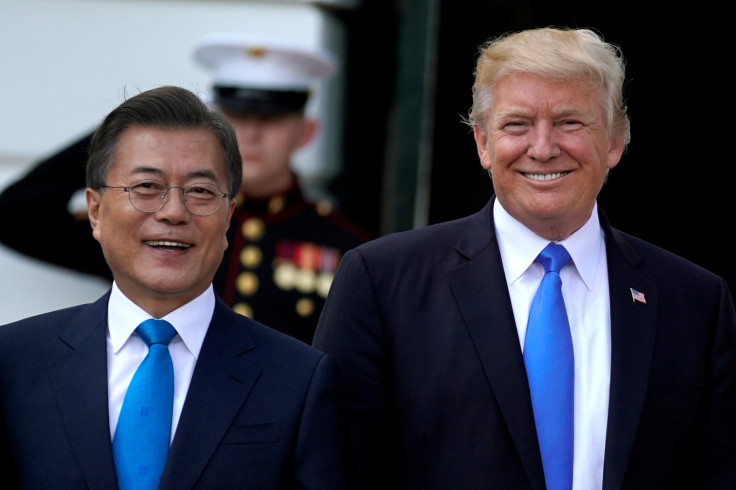 The past week saw a sharp escalation in the bellicose rhetoric between Washington and Pyongyang after fresh UN sanctions were imposed against North Korea on 5 August following two intercontinental ballistic missile tests in July.
Trump threatened Pyongyang that it would be met with "fire and fury" if provoked, and also tweeted that the US was "locked and loaded".
The threat came after North Korea said it had miniaturised a nuclear warhead capable of striking the Pacific island of Guam, which the US controls.
North Korea also announced that around 3.5 million workers and party members from the country have volunteered to join or rejoin the army should the crisis with the US escalate.