No plans for 'forcible removal' of Dakota Access pipeline protesters, US authorities say
The Army Corps of Engineers had earlier said that it would close the makeshift camp for 'safety reasons' on 5 December.
The US authorities on Sunday (27 November) have said that they have no plans to forcibly close the Standing Rock Dakota Access Pipeline protest against the project that run beneath a lake near the Standing Rock Sioux reservation in North Dakota.
The US Army Corps of Engineers said in statement that it had "no plans for forcible removal" of protesters. "The Army Corps of Engineers is seeking a peaceful and orderly transition to a safer location. This will reduce the risk of harm to people in the encampments caused (by) the harsh North Dakota winter conditions," the statement mentioned.
It added that whoever remained there would be considered as illegal and could be subject to various citations. It also said emergency services might not be sufficiently provided to the region.
The development came after the agency announced earlier that it would close a large swath of land where protestors are camping on in protest against the Pipeline project. It said it will close the makeshift camp for "safety reasons" on 5 December.
However, organisers of the demonstration told a press meeting on Saturday that they would not move anywhere from the protesting site.
The $3.7bn (£2.94bn) Dakota access pipeline is designed to transport crude oil from North Dakota into Illinois. The project will also run through the states of South Dakota and Iowa. The 1,170-mile pipeline crosses 50 counties and three major rivers.
However, the Standing Rock Sioux Tribe along with a number of environmentalists have been protesting against the construction since summer as they fear the line will ruin sacred sites and contaminate drinking water for them.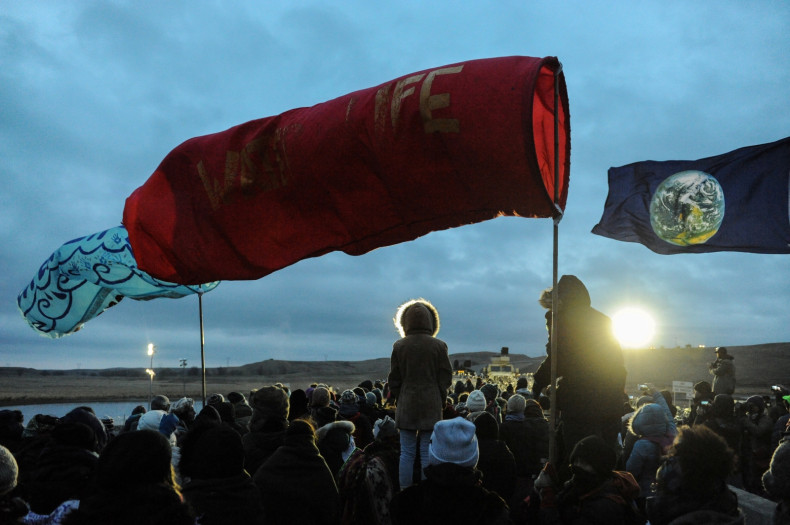 In the past few weeks, protesters have complained that police used water canons in subfreezing weather and shot rubber bullets and tear gas to disperse them from the proposed tunnel excavation site.
Dave Archambault II, the tribal Chairman of the Standing Rock Indian Reservation in North Dakota, had also urged defiance and requested outgoing President Barack Obama to stop the construction.
The Obama administration in September had postponed the final approval of a permit required to allow tunneling beneath the lake, a move proposed to provide federal officials more time to consult with tribal leaders. However, the postponement led to rising tensions over the project.