Around 400 North Dakota Access pipeline protesters clashed with local police on Sunday night (20 November), resulting in the arrest of one individual. The group were on the Backwater Bridge near the Standing Rock Sioux reservation from where they were heading north on the highway.
Protesters said they were attempting to access what they described as sacred tribal lands, which are under the jurisdiction of the US Army Corps of Engineers. According to the Morton County, North Dakota Sheriff's Office, law enforcement officers then formed a line in order to stop them but were forced to use tear gas and water cannons to dispel the crowd.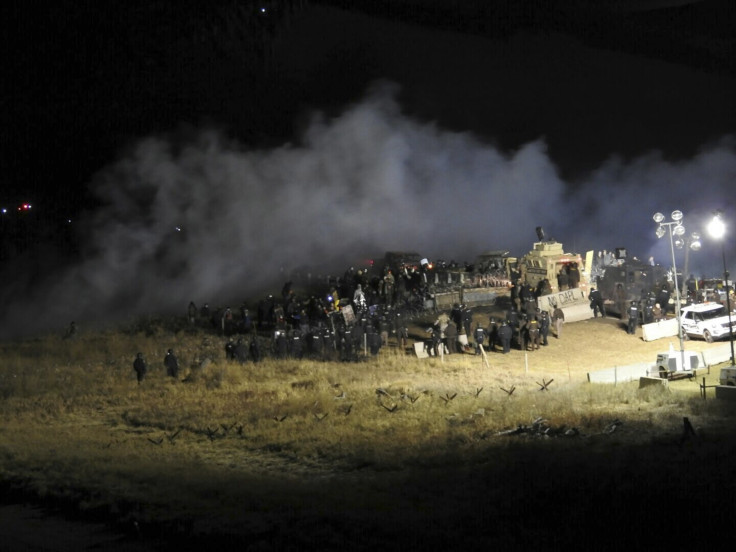 Activists at the scene tweeted that the police were spraying protesters with water in sub-freezing temperatures and firing rubber bullets into the crowd.
The Sheriff's Department called the situation a riot, and said that the protesters tried to outflank the officers and set multiple fires on the bridge.
"Law enforcement is currently involved in an ongoing riot on the Backwater Bridge, north of a protest camp in Morton County. Protesters in mass amounts, estimated to be around 400, are on the bridge and attempting to breach the bridge to go north on highway 1806. Protesters have started a dozen fires near the bridge," the Department mentioned on its Facebook page.
Indigenous Rising Media reported that at least 167 people were injured in the clash, seven of whom had to be transported to the hospital for head injuries. Witnesses at the scene claim the fires were started by police projectiles and not by the group.