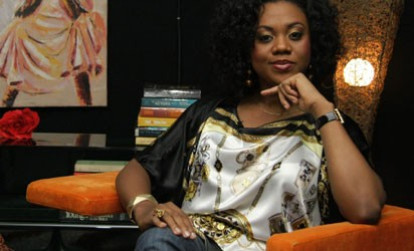 Nigerian star Stella Damasus has expressed her anger over the controversial under-age marriage law being discussed in her country's Senate.
The West African country's government is trying to amend Section 21 of the Child's Rights Act of Nigeria which nullifies the marriage of persons under the age of 18.
The Nollywood star and singer trended on social media after posting a video online condemning the proposed amendment by the Senate, which will mean that a married girl under the age of 18 is deemed to be an adult.
Thirty five male Nigerian senators voted to ensure that the new bill becomes law.
In the five-minute video, 35-year-old star Damascus asked where the 'so-called women in power' were, and insisted that child brides are subjected to slavery. She also described the move as a legalisation of sexual abuse of underage girls.
"I cannot believe that such a barbaric and degrading issue would be discussed by the senate, in a country which is described as 'the giant of Africa'," she said.
"Of all the issues facing this country-corruption, energy unemployment, infrastructural deviancy, health, education, security - our senators have decided to waste taxpayers' money to discuss how to enable these shameless randy old men to marry underage children legally.
"I cannot believe that a senator of Nigeria will push for child slavery to be made legal."
The actress goes on to call on Nigeria's First Lady, Patience Jonathan, and encourage other influential people to use their status as a platform to stand against the law.
"Where are all the celebrities who travel around the world promoting themselves? Now is the time to lend your voice without fear. I am not afraid to stand for what I believe in."
She concludes the video by saying: "I am Stella Damasus. I stand for what is right. I stand for what I believe in. I have a right to speak my mind. I have a right to fight for my children. I have a right to fight for every Nigerian child and so do you. The time to act is now."
Her video has provoked a huge response from the online community with many viewers condemning the Senate's position.
One viewer said: "Stella I would like to congratulate you for standing up to this horrible injustice that has afflicted our nation where old men seat in power and pass Law [sic[ for their own selfish reasons and evil sexual gratifications without considering the child welfare and underdeveloped body which often leads to tragic consequences at child birth,
Another wrote: "I was moved to tears watchn this, its such a painful and insane decision, we stand against this # Childnotbride# SERIOULY WHERE IS PATIENCE JONATHAN!!!!!!?????"
Massive protests have been held in parts of the country in a bid to force the senate to reverse its endorsement of the underage marital law.