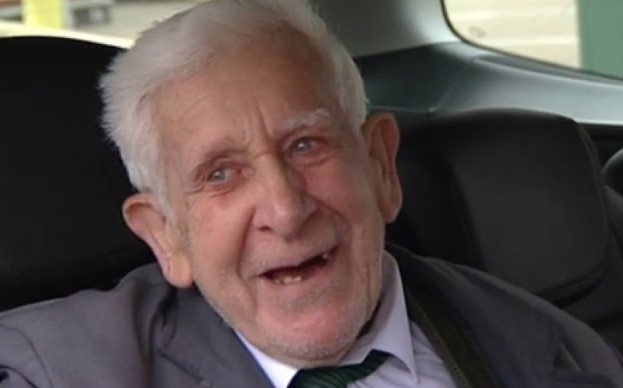 Bernard Jordan, the Second World War veteran who caused a furore in 2014 after running away from his nursing home to join the D-Day commemorations in Normandy, has died aged 90.
Jordan was dubbed the "Great Escapee" after he left the Pines Care Home in Hove last June to make his own way to France to join up with the other veterans marking the 70th anniversary of the D-Day landings.
Sussex Police launched a search for Jordan after the care home reported him missing. The search was called off after it was revealed he was safe and well and making his way across the Channel by himself to take part in the event.
Gracewell Healthcare – who run the care home where Jordan lived - confirmed Jordan died aged 90 in hospital.
Managing director Amanda Scott said: "Bernie caught the world's imagination last year when he made his 'surprise' trip to France and brought a huge amount of joy to a lot of people.
"He will be much missed by everyone here and our thoughts and prayers go out to his wife. Bernie was always insistent that what he did during the war was nothing unusual, and only what many thousands of others did for their country.
"That may well be true, but the little bit of excitement he gave everyone last June was typical of his no-nonsense attitude to life and is how he will be remembered by thousands of people."
Staff at his nursing home attempted to get him on an official tour to Normandy with the Royal British Legion, but he was unable to make it.
Upon his return to the UK, Jordan told ITV's Good Morning Britain: "In the months before this year's anniversary, I had been trying to get on an official trip to Normandy and my care home staff were helping me, but I didn't have the necessary security passes.
"I thought that was that. Everyone had done their best for me. The staff at the care home had tried very hard to get me on an official trip."
Last July, Jordan was made an honorary alderman of Brighton and Hove and was described as a "living legend" by Brighton and Hove Mayor Brian Fitch. He also received more than 3,000 birthdays cards from well-wishers across the country when he celebrated his 90th just a few days after his journey.