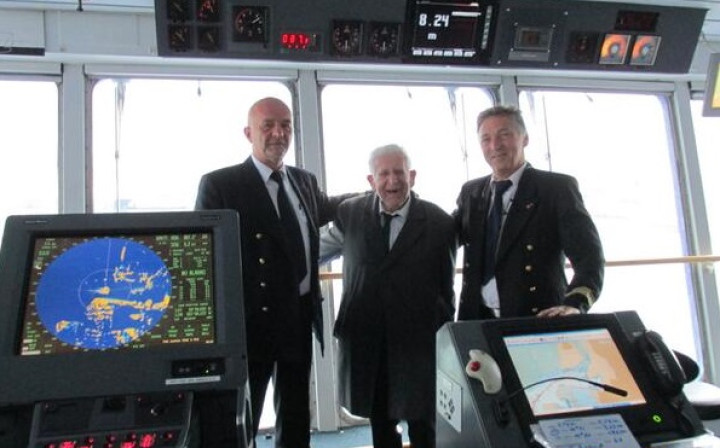 A second world war veteran who disappeared from his nursing home to make his own way to the D-Day commemorations in France has returned home to the UK.
Bernard Jordan, 89, slipped away from his residence in Hove on Thursday after being informed that he had missed a place on an organised trip to the ceremony with the Royal British Legion.
The former Royal Navy officer took an overnight ferry and managed to attend the 70th anniversary of the D-Day landings in Normandy.
Jordan, who was mayor of Hove from 1995 to 1996, left his nursing home at around 10.30am on Thursday morning wearing a grey raincoat with a jacket bearing his medals underneath.
Sussex police received a call from the nursing home at 7.15pm that evening reporting that Jordan had not returned. After a fruitless search, the care home received a call from another veteran to say he had met the pensioner on a coach on the way to France and that he was safe and well.
The ship's liaison officer Sonia Pittam, who met Jordan on his way to France, said: "I knew he was a game old boy.
"He certainly has his wits about him, he didn't say much about the landings, just how pleased he was to be on board and couldn't believe how everyone was looking after them [veterans] and all the people waving on the route to the harbour entrance."
Arriving in Portsmouth on the Brittany Ferries ship Normandie on Saturday, Jordan said: "I had a great time. I'm really pleased I did it. It was good - it gets even better as it goes on."
Asked if he might be in trouble when he returned back to The Pines nursing home where he lives, he said: "I might be, but I hope not."
A police spokesman said: "We have spoken to the veteran who called the home today and are satisfied that the pensioner is fine and that his friends are going to ensure he gets back to Hove safely."
Asked if he plans to return to the D-Day commemoration ceremony next year, Jordan said: "Yes, I expect so, if I am still here, definitely."