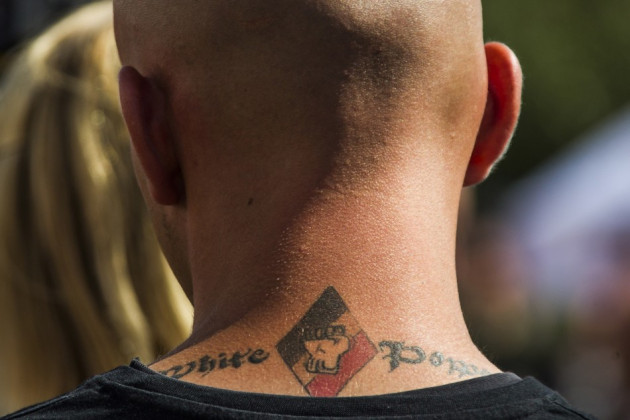 White supremacists are planning to take control of a town in North Dakota, USA.
Several months ago, far-right agitator Paul Cobb started buying up land in the city of Leith, North Dakota, about 70 miles south-east of Bismarck.
According to the last US census, in 2010, the isolated town is home to 16 residents. Since trains stopped running through it in 1984, it has fallen into disrepair and delapidation. Land can now be bought for as little as $500 a plot.
Cobb has declared that he wants to turn the town into a white power community, where ethnic minorities would be banned from entering and the Swastika would fly over the town hall. He has invited white supremacists from all over the US to come and live on his properties.
"I don't understand why all the different other people don't say 'whitey' is pretty darn nice and clever," Cobb said. "There are many organisations (in) which whites have to support other cultures... Where is the organisation of people from around the world that says let's keep these white people?... They're pretty darn good, all in all," he told CNN.
Wanted in Canada for hate speech crimes, Cobb is one of the best-known figures in the white supremacist movement.
"He believes whites should be separate from other races," said Heidi Beirich of the Southern Poverty Law Center. "He's also an anti-semite, a raging anti-semite... And he's a member of the creativity religion, which is a religion that literally worships the Aryan man instead of God."
Jeff Schoep, leader of the National Socialist Movement in America, has called on white supremacists to gather in the town in a two-day show of support for Cobb's mission, and to deter those who want to challenge their right to settle there.
Leith's residents are shocked at the turn events have taken. Miller Ferrie, a Leith resident for seven years, said: "It saddens us, because of what they stand for," she said. "If they were coming to hold a rally for Christ we would be thrilled, but what they stand for is the opposite of what we believe."
The community has appealed to the outside world for support, and for donations for a fund set up to help pay for lawsuits Cobb has threatened to bring against the town and its councillors should they try to oust him from his land.
"We need people from across the state to come alongside of us and show support that they don't believe in what this guy is doing," City Council member Lee Cook told the Bismarck Tribune. "There are a lot of people who could speak up. It's not tricky. Silence, to me, means that whatever he's doing is OK," he said.
Members of a group set up to counter far-right encroachment into the county, UnityND, will hold a counter demonstration in the city on Sunday, and are expected to be joined by members of local Native American communities.
Cobb has promised to seize control of the town politically, with only 22 seats necessary to establish a majority on the city council, and there have even been suggestions that the town should cede its political authority to the state to counter this.
For today, Leith's residents and their supporters aim to show the far-right that neither they are not welcome there.
"I'm a firm believer that everyone has a right to believe what they want, just not the ability to force the issue on someone else," said Steven Bay, a lifetime resident.