Construction could be underway on a new North Korean submarine that would be big enough to launch long-range ballistic missiles.
Satellite imagery of the Sinpo South Shipyard appears to show components being moved around the yard and new facilities being built.
Measurements taken from the images suggest that if the activity is aimed at building a new submarine, it would be larger than North Korea's current GORAE-class experimental ballistic missile platform.
According to 38 North, a blog which monitors defence and weapons news from Pyongyang, there has been a program of activity at the shipyard, which is also known by the cover name Pogdae Boiler Plant, since January.
Its analysis identified a large circular component at the site and said it could be intended for the construction of a new submarine.
The 10-metre component could be "part of a pressure hull or a construction jig" for a new submarine, the report said
"If this activity is indeed to build a new submarine, it would appear to be larger than North Korea's Gorae-class experimental ballistic missile submarine."
The shipyard is also the headquarters of the Maritime Research Institute of the Academy of National Defence Science, which is responsible for developing naval vessels' weaponry.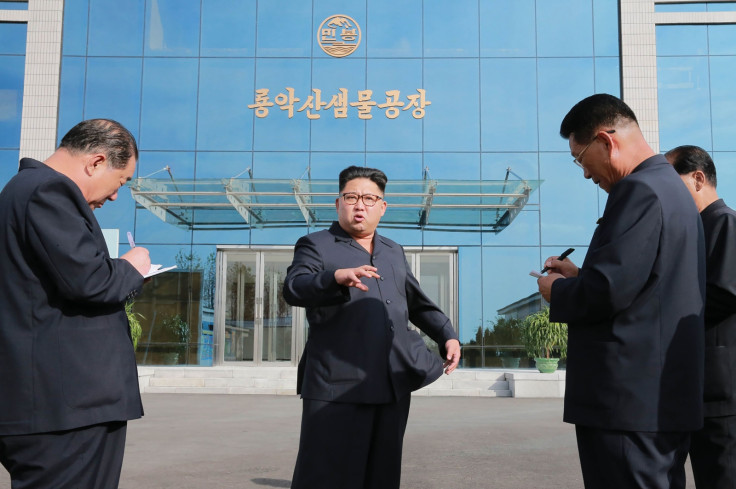 North Korea test-fired a ballistic missile from a submarine on 24 August. It flew for 500km (310.6 miles) over the Sea of Japan before hitting the water inside Japan's territory.
The North Korean government has carried out two nuclear tests so far this year, with the latest being the fifth in its series of underground blasts.
In statements released after the test, it was claimed that North Korea had developed a "nuclear warhead that has been standardised to be able to be mounted on" ballistic missiles.
Experts cast doubt on the claim, saying it was unlikely the country's nuclear weapons programme had achieved the level of miniaturisation required to construct such a warhead.