North Korea showcased its special operations forces for the first time during the massive military parade held to mark the 105<sup>thbirth anniversary of the country's founding leader Kim Il-sung on Saturday (15 April).
The country displayed an intercontinental ballistic missile (ICBM) along with personnel belonging to the special operations forces, who were seen wearing black camouflage cream and dark sunglasses.
"Once Supreme Commander Kim Jong-un issues an order, they will charge with resolve to thrust a sword through the enemy's heart like lighting over Mt. Paektu," said the announcer during the parade.
South Korea's Yonhap news agency reported that the special operations officers were carrying rifles that were equipped with grenade launchers. Former military leader Colonel General Kim Yong-bok is reportedly leading the specially trained personnel, who are seen as the North's answer Seoul and US' special forces.
Meanwhile, analysts are observing Pyongyang's military programmes amid growing tensions in the Korean peninsula as Kim Jong-un's regime seems determined to push ahead with its provocative manoeuvres.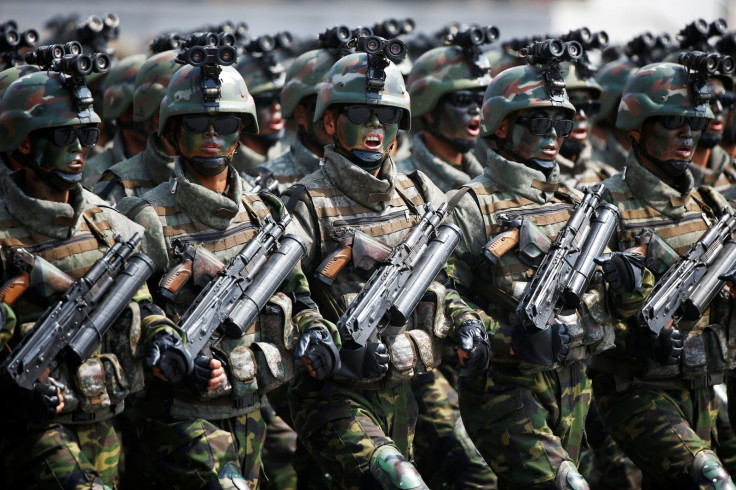 In its latest parade, hundreds of military vehicles and tens of thousands of soldiers marched into Pyongyang to display the country's might. The military display was followed up with a missile launch on Sunday (16 April), but the projectile reportedly exploded soon after lift-off.
Tensions have been increasing in the Korean peninsula as Pyongyang is ramping up its rhetoric against its adversaries, the US and South Korea. The Trump administration, which has repeatedly said it can not hold back from taking military action against North Korea, has already sent a navy strike group to the region as a show of strength.