North Korea fired an unidentified ballistic missile on Sunday (16 April), but the projectile exploded seconds after lift-off. The launch comes just a day after the Pyongyang regime showcased its might in a massive military parade to mark the 105th anniversary of the birth of North Korea's founding father Kim Il-sung.
The North Korean regime's defiant actions occur despite a global condemnation against its weapons programme including from China – a key ally.
South Korea's Joint Chiefs of Staff (JCS) said the latest missile was fired at about 6.20am local time (9.20pm GMT on Saturday) from the land-based port of Sinpo. However, no information was provided about the type of the projectile. The US Pacific Command, which is monitoring the situation, said that the missile blew up within seconds of launch.
"North Korea showing a variety of offensive missiles at yesterday's [15 April] military parade and daring to fire a ballistic missile today [16 April] is a show of force that threatens the whole world," read a statement from the South Korean foreign ministry.
Within hours of the launch, Seoul's National Security Council convened an emergency session to address the situation and vowed to respond strongly to any more provocation.
An unnamed US official told Reuters that it is unlikely to be a long-range missile and added that experts were still analysing the weapon closely. On 5 April, Pyongyang had fired a ballistic missile – thought to be a KN-15 medium-range projectile – which covered a distance of about 60km before crashing into seawaters. South Korean officials suspect the missile launched on Sunday could be of the same type.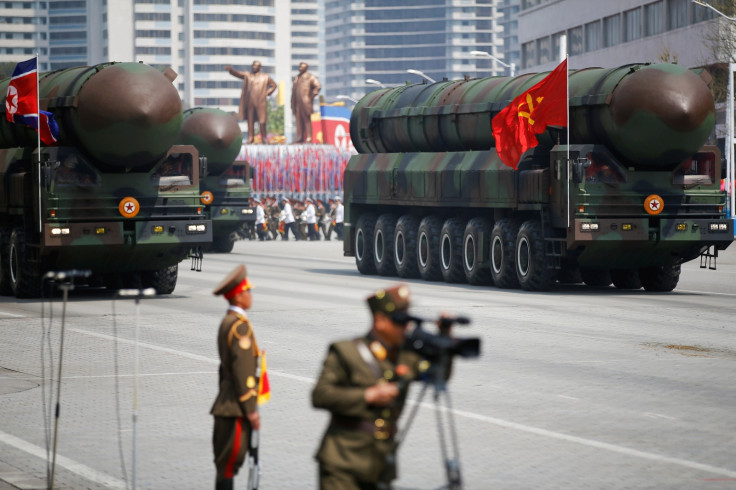 The timing of the launch comes at a crucial time as US Vice President Mike Pence is set to arrive in Seoul on 16 April. He is widely expected to discuss ways to curtail North Korea's strengthening missile and nuclear programmes.
"The president and his military team are aware of North Korea's most recent unsuccessful missile launch. The president has no further comment," the US Defence Chief Jim Mattis said.
North Korea has not yet released any statement over the launch, but it is well-known that the hermit kingdom rarely admits to missile failures.