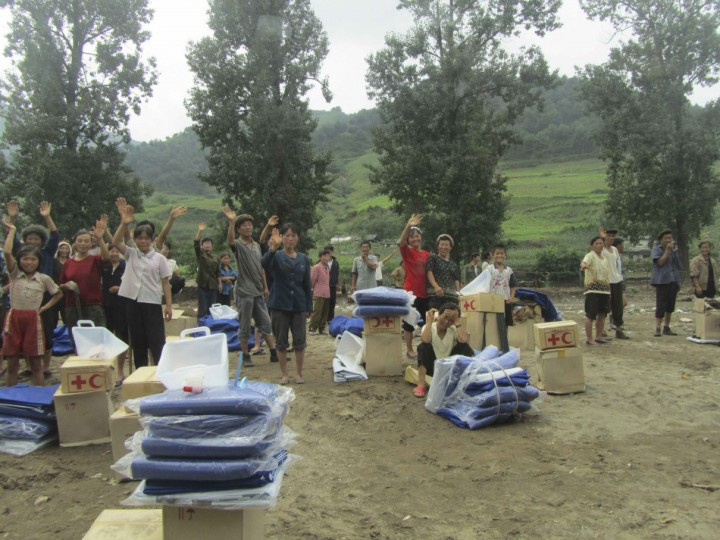 North Korea has pleaded for emergency food and fuel supplies in the wake of the devastating recent floods, the United Nations has said.
A team of UN officials visited the flood-affected regions on 31 July to assess the damage, and found that the floods have led to scores of fatalities, with vast tracts of farmland currently submerged.
The report adds that the rains have caused severe damage to houses, public buildings, infrastructure and farms, and contaminated a large volume of water in the province of South Phyongan.
Residents of the city of Anju, and the counties of Chonnae cand Songchon, are in urgent need of food and clean water supplies. Around 36,000 families in Anju currently have no access to drinkable water, as overflowing drains and latrines have contaminated the local wells - increasing the chances of a diarrhoea outbreak.
The Red Cross has already promised to allocate $300,000 (£193,000) in aid for the flood victims. Britain-based ShelterBox has also donated around 270 tents.
The US says it is yet to receive any aid request from North Korea. However, it promises to consider any plea put forward by the Asian country.
"If requested, it would be something that that we would carefully evaluate but we are not at that point," US State Department spokesperson Patrick Ventrell said.
When floods hit North Korea last year, the US provided $900,000 in relief supplies. Plans were in place to provide a further 240,000 tons of food aid this year, but the US cancelled the agreement in April when North Korea trialled a long-range rocket.
Economy is the priority
According to North Korea's state media, 119 people have died in the floods thus far, while thousands of people have been left homeless.
However, in a meeting with a senior Chinese official on 2 August, North Korean leader Kim Jong-un insisted that developing the country's economy and improving working conditions are his top priorities.
"Developing the economy and improving livelihoods, so that the Korean people lead happy and civilised lives, is the goal the Korean Workers' Party is struggling towards," Kim told Wang Jiarui, the head of the Chinese Communist Party's International Department, according to China's official news agency Xinhua.