North Korea fumes as US forces in Seoul confirm Thaad 'is operational'
North Korea called South's security chief "an ugly pro-American running dog".
US forces in South Korea announced on Tuesday (2 May) that the long-awaited Terminal High Altitude Advanced Defence (Thaad) system installed in the Asian nation is operational and capable of shooting down North Korean projectiles.
Soon after, North Korea lashed out at the South criticising the deployment of the anti-missile battery and calling the South Korean security chief "an ugly pro-American running dog", Yonhap reported.
"Kim's conversation is an ugly pro-American running dog's unacceptable provocative curse at the North," Pyongyang's propaganda website Uriminjokkiri wrote on Tuesday, referring to South Korea's National Security Adviser Kim Kwan-jin's telephonic conversation with his American counterpart HR McMaster last week. The conversation centred on cooperation between the two allies over Thaad.
"Kim's shameful conduct to extremely shelter and flatter the US invasion plot is an act to sell out his country and ridicule and insult South Korean public sentiment while bringing in the source of a catastrophe which South Korean people detest," it added.
The comments followed an emailed statement from Colonel Rob Manning, a spokesman for USFK, in which he confirmed that the missile interceptor "is operational and has the ability to intercept North Korean missiles and defend the Republic of Korea", referring to South Korea by its official name.
However, the system is yet to reach its full operational capability, another US official told Agence France Presse, adding that the full capability will be achieved in some months after more parts of the battery are brought in from the US. The installation comes in the backdrop of repeated provocations from the Kim Jong-un regime in Pyongyang.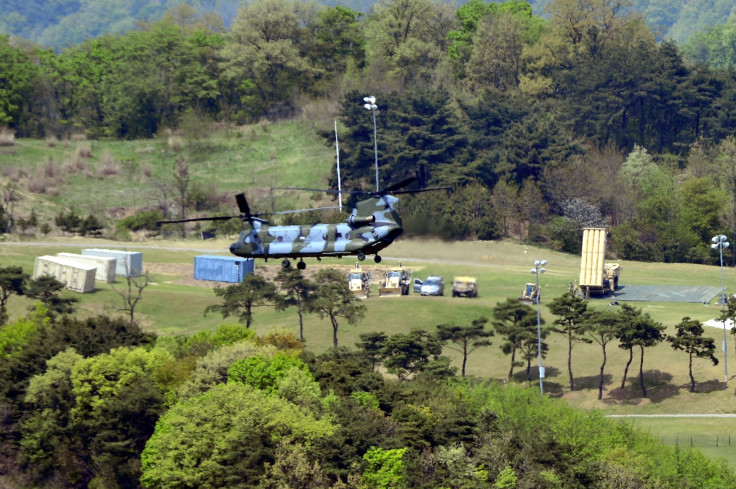 The US military began moving key parts of the anti-missile system on 26 April at the installation site – a former golf course in the rural South Korean town of Seongju in North Gyeongsang province. The installation work began following the North's show of force through an elaborate live-fire drill last week. It happened despite strong objection from China as well as the local population near the installation site.
The US and South Korea's decision had angered Beijing, which believes that the interceptor could threaten China's security as its capabilities are still unknown.
The Thaad installation was also mired in a fresh controversy over payment for the cost of the system. US President Donald Trump reportedly demanded that Seoul pay the $1bn (£774m) cost of the battery, but the latter turned down the demand reminding the new US administration of the deal struck with former president Barack Obama. Seoul said the deal made it clear that South Korea will provide a site for Thaad deployment, while the US will bear the costs of installation.
© Copyright IBTimes 2023. All rights reserved.