When US President Donald Trump held discussion with his Chinese counterpart about North Korea's nuclear programs, he also explained to Xi Jinping about Washington's position on the US anti-missile system deployment near Seoul, South Korea said on Saturday (8 April).
South Korea's acting Prime Minister Hwang Kyo-ahn said Trump spoke to him over telephone on Saturday (8 April) morning to brief him about the US-China summit that was held over two days at the American president's South Beach, Florida estate, Mar-a-Lago.
The deployment of the US-supplied High Altitude Area Defence (Thaad) in South Korea featured in the talks between the leaders of the world's two biggest economies because of China's constant opposition to it.
"President Trump said he and President Xi held in-depth discussions on the seriousness of North Korea's nuclear problem and how to respond to it, and also said he had conveyed the US position on the Thaad deployment," a statement from Hwang said, according to Reuters.
The phone talks came after Trump and Xi agreed on Friday (7 April) to work closely together to convince North Korea to curb its nuclear program in their first summit.
The US began the deployment of the sophisticated missile defence system in South Korea last month to counter North Korea's increasing aggression in the region. Military equipment of the Thaad arrived in Seoul on 6 March — the same day the hermit state fired off four ballistic missiles.
China has been warning to retaliate against the positioning of the missile system as it is wary that Thaad could threaten its security, although South Korea and the US have said its only purpose is to contain Pyongyang's missile threats. The US believes that Kim Jong-un's regime is developing an intercontinental ballistic missile that is capable of hitting the west coast of its country.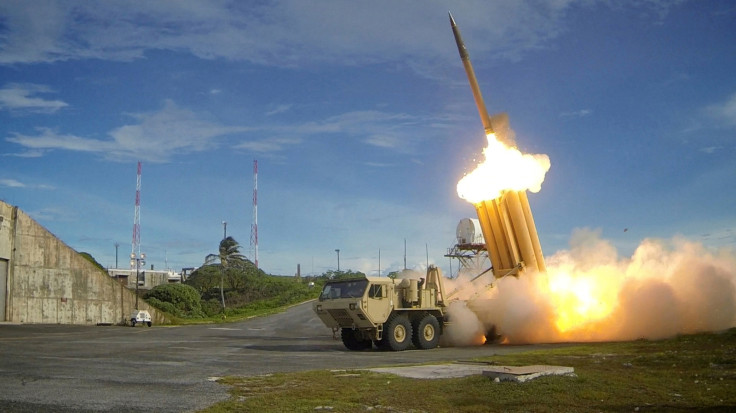 In the recent past, experts and the state media in China have been suggesting that the government take several decisions like refusing to allow South Korean airlines to expand charter flight services between the two countries and restricting the flow of tourists, speculated to be in retaliation over the Thaad deployment.
However, China has never directly said that it is targeting South Korean companies.
Reports suggested that although Trump and Xi appeared to have been at odds over how to deal with raising North Korean threats, both agreed that Pyongyang needs to be contained from pursuing its nuclear weapons programme, according to US Secretary of State Rex Tillerson. However, he did not provide further details on how exactly the two sides plan to crack Kim's defiant attitude.