North Korea hails H-bomb test a 'perfect' success
Pyongyang's state media carries special broadcast to trumpet about this nuclear detonation.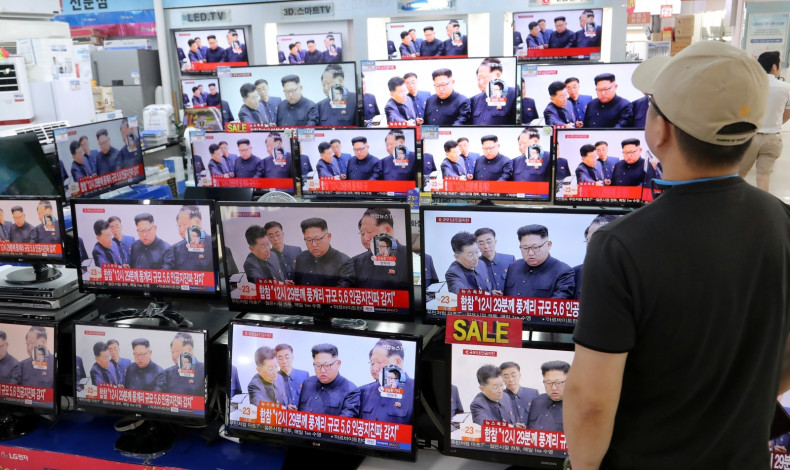 North Korea has hailed the latest test of its hydrogen bomb, which the country claims can be mounted on an intercontinental ballistic missile (ICBM), as a "perfect" success. North Korean state media carried a special broadcast on Sunday, 3 September, hours after the reclusive nation carried out the nuclear detonation.
In what appears to be the country's most powerful detonation as yet, Pyongyang conducted its sixth nuclear blast from its usual test site. The provocative act has added more fire to the already tense situation in the Korean peninsula.
"The H-bomb test was carried out to examine and confirm the accuracy and credibility of the power control technology, and internal structural design newly introduced into manufacturing the H-bomb to be placed as the payload of the ICBM," the state mouthpiece Korean Central News Agency (KCNA) said in a special report. The H-bomb is significantly powerful than an atomic bomb though outside experts are still sceptical about the North's actual capabilities.
The North had conducted so far five nuclear detonations in the past and two of them were carried out in 2016. Earlier reports said there were indications suggesting the North had been preparing for its sixth nuclear test.
According to South Korea, the latest detonation was 9.8 times more powerful than the fifth nuclear detonation and 11 stronger than the fourth.
China, a strong economic partner of North Korea, is increasingly getting frustrated with Pyongyang as it swiftly condemned the latest test. Beijing's foreign ministry said: "The Democratic People's Republic of Korea [North Korea's official name] has once again conducted a nuclear test in spite of widespread opposition from the international community. The Chinese government resolutely opposes and strongly condemns it."
The international community led by the UN Security Council is expected to put even more punitive sanctions against the North Korean regime after the latest test. North Korea's archrival South Korea has called for "strongest" response.