The Kim Jong-un regime has taken a jibe at the US and its ally South Korea, saying any attempts by the "puppets" to locate North Korea's ballistic missile launchers will not produce any useful result.
Rodong Sinmun, the mouthpiece of the North's ruling Workers' Party, issued sarcastic remarks in a commentary on Saturday (2 September), saying the allies' military drills to detect and destroy the reclusive state's transporter-erector-launcher (TEL) was nothing by "laughable".
The newspaper referred to the military drills South Korea conducted on 24 August targeting the TELs, where troops carried out training to infiltrate into enemy territory and locate and destroy the launchers.
The drills were part of the annual Ulchi-Freedom Guardian exercises held jointly with the US, Seoul-based Yonhap news agency reported.
North Korea is reported to have used a TEL to move a ballistic missile and make it stand upright to avoid getting monitored by the South's spy satellites.
"Any attempt by the puppets to detect and destroy our TELs in advance is nothing but a silly dream. The puppets in South Korea will never avoid catastrophes as long as they continue to run amok," Rodong Sinmun said in the commentary.
The newspaper also bragged about how the US and its regional allies failed to track Pyongyang's two intercontinental ballistic missile (ICBM) tests in July, which raised concerns about the possibility of North Korea striking a US target.
It later emerged that the Kim regime had worked out how to miniaturise nuclear warheads to be transported via ICBM, though there are doubts over their reliability.
"The US and Japan have mobilised all their intelligence assets for 24-hour surveillance on us but failed to detect the launch time and place of our ballistic missiles," it added.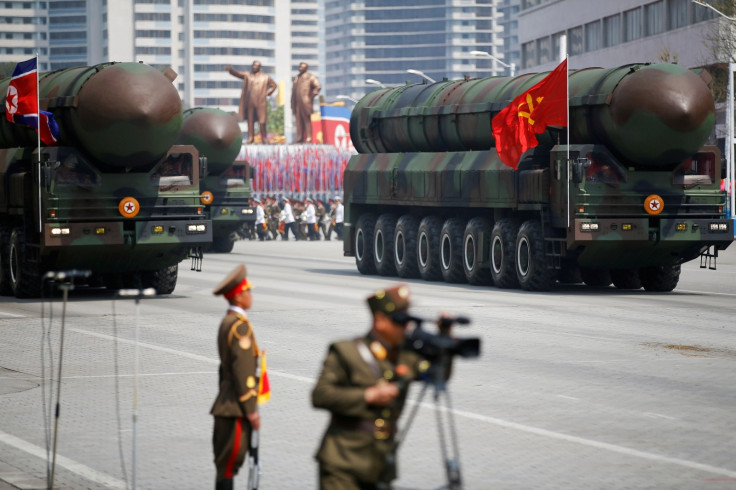 The newspaper also boasted about how the US was aware of the North Korean military's deception capabilities.
"Our strategic weapons are ready to thoroughly annihilate the strongholds of aggression and provocation from any unpredictable region and place anytime," added the commentary.
Rodong Sinmun's commentary comes amid heightened tensions over the rogue nation's latest ICBM launch, Hwasong-12, on 29 August. The move prompted the US to send strategic bombers and stealth jets to fly over the Korean peninsula as part of its ongoing drills with South Korea.
North Korea's repeated missile launches and constant bellicose rhetoric have created an unstable atmosphere in the Korean Peninsula region.