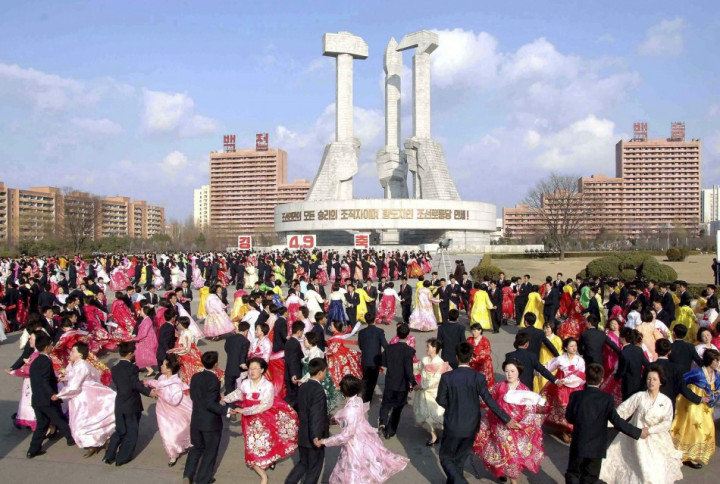 North Koreans have taken to the streets of Pyongyang with "dancing parties" to celebrate the first year of Kim Jong-un's dictatorship as state officials delivered a fresh round of war rhetoric.
State-run KRT broadcast images of young men and women parading through the capital in brightly coloured traditional costumes as they celebrated the anniversary of Kim's appointment to the top party post left vacant by his father's death.
Students from Kim Chaek University of Science and Technology were shown dancing in the plaza next to the Arch of Triumph.
Kim took the reins of the secretive Asian state after his father Kim Jong-il's death in 2012.
Celebrations are carefully observed by the international community as they are often used by the regime to show off its military strength and make bellicose proclamations.
Next week, particular focus will be put on the nation's biggest holiday, the 15 April birthday of North Korea's founder Kim Il-sung, grandfather of the current Kim.
Meanwhile the Committee for the Peaceful Reunification of the Fatherland, Pyongyang's non-military agency dealing with relations with South Korea, said that "striking means" have been "put on standby for a launch and the coordinates of targets put into the warheads".
The announcement was the latest in a series of threats against South Korea and the US.
"We strongly urge North Korea not to exacerbate the crisis on the Korean peninsula," Seoul's unification minister Ryoo Kihl-jae replied.
Foreign ministers of the G8 countries, attending the group's summit in London, added their voice to demands for North Korea to put an end to its "aggressive rhetoric".
"Pyongyang's provocations seriously undermine regional stability, jeopardise the prospects for lasting peace on the Korean peninsula and threaten international peace and security," ministers said.
"If the DPRK [North Korea] conducts another missile launch or nuclear test, we have committed ourselves to take further significant measures," added Foreign Secretary William Hague.