North Korea is at it again. Despite the US' diplomacy-first approach toward the reclusive nation, Pyongyang has again launched three ballistic missiles toward the East Sea early on Saturday (26 August), according to the South Korean military.
The US Pacific Command (Pacom) has issued a statement after the launch. According to Pacom, one of the three missiles blew up almost immediately and the other two "failed in flight".
The Pacom said that initial assessment indicated the projectiles fired were "three short-range ballistic missile".
Experts believe the missiles fired were Scud-type ballistic missiles with a range of 300km or newly developed longer-range ones.
"The launches seem to be Scud-B missile firing drills," Kim Dong-yub, professor at the Institute for Far Eastern Studies at Kyungnam University told Yonhap news agency.
"But there is a possibility as well that it was aimed at improving the capability of KN-02 surface-to-surface missiles or KN-01 ground-to-ship missiles using solid fuel," the professor added.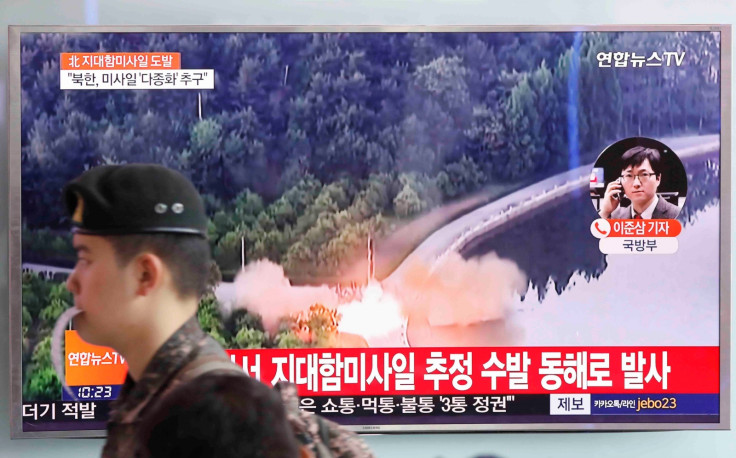 However, Pacom spokesman Commander David Benham said the North Korean missiles did not pose any threat to North America.
The latest launch has further escalated tensions in the region, prompting South Korea to convene an emergency National Security Council meeting following the missile launches. The meeting was presided over by South Korean President Moon Jae-in's national security adviser Chung Eui-yong.
Officials who attended the meeting "reviewed the defense posture" of South Korean troops, Yoon Young-chan, senior presidential secretary for public relations, was quoted by Yonhap news agency as saying.
"They have also decided to proceed more thoroughly with the ongoing UFG [Ulchi Freedom Guardian] drills," he said, referring to the annual combined training drill between South Korea and the US that began on Monday (21 August).
North Korea looks at the joint drills as a provocation and has often threatened the two allies against conducting the military exercises. However, both Washington and Seoul have blamed provocations from Pyongyang as the primary reason to conduct the drills.
Meanwhile, the White House stated that US President Donald Trump has been briefed about the failed missile tests. "In regards to activity in North Korea tonight the President has been briefed and we are monitoring the situation," its press secretary Sarah Huckabee Sanders reportedly said.