North Korea has warned that it would launch a counter-attack if the recently-launched US-South Korea joint military drills posed a threat to its sovereignty. Condemning the exercise, Pyongyang alleged that it is a rehearsal to mount an invasion against the North Korean regime.
Promising the "toughest" military action, the General Staff of the Korean People's Army (KPA) warned that Seoul and Washington should be prepared to face consequences if there is any provocation from their side.
In a statement carried by the state-run Korean Central News Agency (KCNA), the North's army said: "Our army will counter them with the toughest counteractions as it had already declared. This stand of ours clarified before the world is by no means empty talk."
Pyongyang's warning comes on Thursday (2 March) just a day after South Korean and the US kicked off their annual joint military exercise codenamed Foal Eagle. The drills are likely to be held until end-April.
The war of words during a military exercise in the divided Korean peninsula is an ongoing affair as the North sees any such act as a precursor for a fully-fledged attack. However, both South Korea and the US have rejected the allegations and say that the exercise is purely for defence purposes and to enhance combat readiness.
"Should the US imperialists and the south Korean puppet forces fire even a single shell into the waters where the sovereignty of our Republic is exercised, the KPA will immediately launch its merciless military counter-actions. The KPA will mercilessly foil the nuclear war racket of the aggressors with its treasured nuclear sword of justice," the KCNA report said.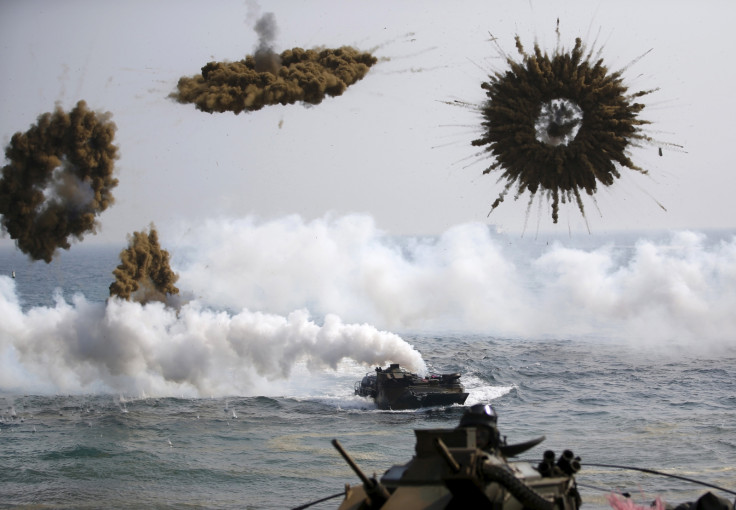 Responding to the latest warnings, the South Korean defence ministry also said that it was keeping a close watch on the situation and insisted that it is ready to tackle any provocation in the region.