North Korea said Thursday (20 December) that a US accusation it was behind a major ransomware attack was a "grave political provocation", and vowed to retaliate.
Homeland security adviser Tom Bossert wrote in a Wall Street Journal op-ed published Monday (18 December) that declared North Korea will be held accountable for May's WannaCry ransomware attack, which infected hundreds of thousands of computers worldwide.
In remarks carried by state media, the North's Foreign Ministry repeated it had nothing to do with the attack. It said it will never tolerate such "reckless" US claims but didn't say how it would respond.
"The Trump administration is inciting an extremely confrontational atmosphere by even concocting a plot against us at this delicate moment when the situation on the Korean Peninsula is at the crossroads of nuclear war or peace," an unidentified ministry spokesman said.
It's not unusual for Pyongyang to issue harsh rhetoric against Washington and Seoul.
Thursday's warning came amid heightened animosities following the North's test launch of its most powerful missile last month.
South Korea and US officials have accused North Korea of launching a slew of cyberattacks in recent years. Among them is a US accusation that it hacked Sony Pictures in 2014 over the movie The Interview, a satirical film about a plot to assassinate North Korean leader Kim Jong Un. The North has denied those accusations.
Bossert said the US administration's finding of responsibility is based on evidence and confirmed by other governments and private companies, including the UK and Microsoft.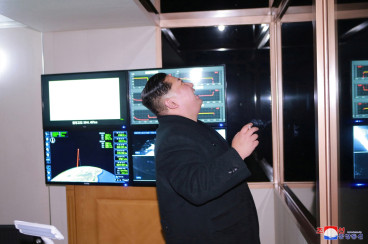 Last month, the former head of British spy agency GCHQ, Robert Hannigan, warned hackers with ties to North Korea will continue to devastate the UK with cyberattacks over the next 12 months.
One covert unit, tentatively linked to the rogue nation by multiple cybersecurity experts, is known as The Lazarus Group.
He commented: "WannaCry was really a reasonably sophisticated tool, used rather ineptly.
"They will learn from that. People always do. They will get better at using those tools, and there are far more sophisticated tools out there, and they will start to use them."
More recently, analysts have said North Korea has been hacking cryptocurrency exchanges in order to profit from the sharp rise in value of Bitcoin. On Wednesday (20 December), US officials acknowledged that, in reality, little can be done to prevent such clandestine activity.