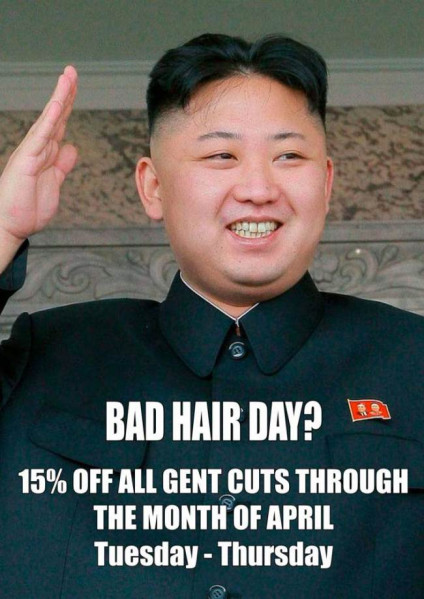 The North Korean embassy allegedly used "threatening behaviour" to force a west London hairdresser to remove a satirical advertising poster featuring Kim Jong-un.
Mo Nabbach, owner of the M&M Hair Academy in South Ealing, used an image of the controversial leader of the secretive state to promote his hairdressing company.
The poster features the slogan "bad hair day?" beneath an image of Kim, and offers a 15% discount on haircuts.
However, unbeknown to Nabbach, the North Korean embassy is located less than two miles away from the hairdressers in a modest semi-detached house in Gunnersbury.
After the poster was put on display, two officials from the embassy turned up ordering Nabbach to take down the poster because it was "distrispecful" to their leader.
Nabbach told the Evening Standard: "I told them this is England and not North Korea and told them to get their lawyers.
"We did take it down but then some of our clients told me to put it back up because we have a democracy here.
"The two guys were wearing suits and they were very serious. It was very threatening."
A Met Police spokesperson said: "We have spoken to all parties involved and no offence has been disclosed."
The North Korean embassy refused to comment on the matter.
Nabbach said he came up with the idea after reading reports all male students in a North Korean university were required to have the exact same haircut as the Dear Leader.
These reports, originating from Washington-based Radio Free Asia, were dismissed by Associated Press journalists who say they have not noticed a difference in hairstyles in young males.